Contracts Investigation
Airbus Invites a Trump Thumping
Contracts investigation is an unwelcome distraction after Bombardier victory.
By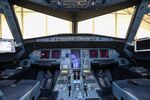 BOEING CO/THE
-1.69
At Closing, February 20th
BOMBARDIER INC-B
+0.17
As of 4:15 PM EST
If you're planning to make a U.S. rival look silly, it's sensible to make sure there aren't any skeletons in the cupboard American officials might use to knock you down a peg or two.
Airbus SE seems to have forgotten this basic law of the international corporate jungle. Last month, the European aerospace and defense group agreed to take a majority stake in Bombardier Inc.'s C-series commercial jet program, which the Trump administration had hit with punitive import tariffs at the behest of Boeing Co. By setting up production of the C-Series in the U.S., Airbus thinks it can circumvent the tariffs.
It seemed like game, set, and match to Airbus -- but, foolishly, the company has handed the U.S. an opportunity to strike back. On Tuesday, the European company said it had reported to U.S. authorities various shortcomings in the reporting of its use of sales agents and commissions to secure military export contracts. Those shortcomings might put it in breach of the U.S. International Traffic in Arms Regulations. Airbus said it was cooperating but couldn't estimate the size of any potential penalty, if any, that might be incurred. 
This is unhelpful, to say the least. Airbus is already the focus of various corruption probes in Europe related to its use of sales intermediaries and has warned any penalties could be significant.  
Those cases, as well as ongoing aircraft production bottlenecks related to the A320neo commercial jet and A400m military transporter are weighing on Airbus's share price, which has trailed Boeing's in recent months -- despite the company's strong order book and buoyant demand for air travel.
Frustratingly, Airbus isn't the master of its own fate here: the A320neo troubles reflects problems with a new fuel-efficient engine manufactured by U.S. supplier Pratt & Whitney – Airbus no longer expects to reach its target of delivering 200 of those jets this year. And of course, Airbus isn't in a position to dictate the pace or outcome of corruption probes.  
To be sure, Airbus is no stranger to transatlantic bad blood – it's been involved in a tit-for-tat trade dispute with Boeing for years concerning subsidies each accuse the other of receiving. But given its production snarl-ups, and the challenges of integrating the C-Series it can ill afford yet more distraction. Unless Airbus can shed more light on its sales-agent issues, investors will worry it's opened up a flank for the U.S. to hit back.  
To contact the editor responsible for this story:
Edward Evans at eevans3@bloomberg.net
Before it's here, it's on the Bloomberg Terminal.
LEARN MORE