Silent Treatment
Aetna's Silence Doesn't Mean It's Not Listening to CVS
It's staying mum, but the insurer would have a lot to gain from a deal.
By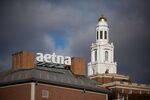 AETNA INC
+0.49
At Closing, February 23th
CVS HEALTH CORP
+0.16
At Closing, February 23th
Silence may still be golden for Aetna shareholders. 
On its earnings call Tuesday morning, Aetna Inc. refused to discuss "rumors and speculation" about a possible acquisition by CVS Health Corp. But don't take that as a sign the company isn't interested. 
Though Aetna beat Wall Street's third-quarter earnings expectations and raised its 2017 earnings guidance, its path to future growth is uncertain. If CVS is genuinely offering $200 a share, then Aetna should be all ears. 
The brightest spot in Aetna's quarter was its Medicare Advantage business. It's the fastest growing component of a government business of increasing importance to the company. Enrollment grew 8 percent in the quarter from a year earlier, and Aetna expects 2018 to be a solid year. But Aetna is fighting with multiple other insurers for a share of this market, making significant gains tougher. 
Things aren't quite as rosy elsewhere. Aetna is exiting the Affordable Care Act's individual exchanges -- good for near-term profitability, bad for revenue -- and announced a sale of its group life and disability business earlier in October. Medicaid enrollment was down 21 percent year-over-year after some contract losses, a trend that may continue into next year. 
As a result, Aetna's revenue growth will likely be muted next year. And profit will be impacted by the return of a suspended Obamacare tax on health insurers. Investors will have to wait until 2019 for better numbers. That may make a CVS approach more attractive. 
Those delayed growth expectations feed into Aetna's below-average valuation. Even after a boost from CVS-related speculation, its shares are valued at 16.7 times earnings estimates, behind all of its large competitors except for Anthem and below the average for managed-care companies.
A $200-per-share bid would value Aetna about as highly as the sector's most richly regarded companies. Aetna will have a hard time achieving that on its own.
A possible hiccup for what might otherwise be an easy decision for Aetna is the structure of the deal. An all-cash bid is more than CVS can handle. Aetna's investors and board will have to accept a substantial stock component in the new and potentially more-levered company, and that's a risky bet.
But a combined business would likely have higher long-term growth potential than Aetna alone. It could direct enrollees to CVS services. It would have greater scale and analytic power in the pharmacy benefits business. And it would have the sort of cost advantage that has helped UnitedHealth grow rapidly. 
The final price and the amount of cash on the table do matter. And there are other possible impediments to a deal. But Aetna shouldn't go out of its way to discourage CVS.  
To contact the editor responsible for this story:
Mark Gongloff at mgongloff1@bloomberg.net
Before it's here, it's on the Bloomberg Terminal.
LEARN MORE