Slow And Steady Wins
Merck Has Good Reasons for Its Keytruda Delay
Rushing into things isn't how the cancer drug has built its lead.
By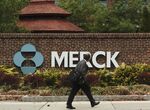 BRISTOL-MYERS SQUIBB CO
-0.44
At Closing, April 20st
Slow and steady has been winning the race for Merck & Co. Inc.'s Keytruda in the multi-billion-dollar market for immune-boosting cancer medicines. Now it's being punished for that approach.
Merck on Friday revealed a change to a highly anticipated trial of Keytruda in combination with chemotherapy in newly diagnosed lung-cancer patients. It may push trial results into 2019, a year past previous expectations. Merck revealed later on Friday it was withdrawing an application for European approval of the combo based on a smaller earlier study. Shares dropped 6 percent on Friday and fell another 6 percent on Monday after analyst downgrades.
The delay may slow sales growth and make it likelier that Merck has to share more of the lung market with rivals. But the company deserves some credit for sticking to its cautious guns. 
Keytruda is expected to provide much of Merck's sales growth over the next few years and become the best-selling of five similar medicines. Keytruda became the presumed market leader after drugs from Bristol-Myers Squibb & Co. and AstraZeneca PLC failed ambitious lung-cancer trials. A more-cautious Merck trial netted Keytruda FDA approval as a solo treatment for a subset of newly diagnosed lung patients, and a small Phase 2 study got it a quicker-than-expected U.S. approval to treat a broader group in combination with chemotherapy.
Merck is modifying a Phase 3 trial that seeks to confirm the success of its Phase 2 trial, something the FDA requires if a treatment gets a so-called "accelerated approval" as Merck's combo did. A larger data set may also convince more doctors to use the combo as a first option. 
Cancer drugs are primarily measured on two things. Progression free survival (PFS) measures how long a patient goes without their disease worsening. And overall survival (OS) looks at how long patients on a medicine live. The latter is the more definitive gold standard for success. But it also takes much longer to measure, because you can't see a benefit until patients in a clinical trial die.  
Merck's decision to emphasize OS in its Phase 3 combo trial is causing the data delay. There are a number of likely reasons behind this choice of focus. Merck's competitors have OS as a primary goal and are set to reveal data over the next year; success could give them a commercial edge over Merck if it doesn't match their results. Merck's European failure may have prompted it to emphasize OS. And failing in a Phase 3 trial could cause the FDA to rescind its early U.S. approval of the chemo combo. Such an outcome is now at least delayed. 
Merck expects the modified trial to end in February 2019, but the timing is hard to predict. Merck may provide earlier, interim results but said Friday it will be cautious about doing so. That caution likely hit Merck's stock price. But it also has a reasonable explanation. Trial patients don't know if they're taking the chemo-Keytruda combo or are in the chemo-only control arm. Successful early trial data could inspire some patients to drop out of the trial and just take Keytruda alone, which would skew the trial in a way that could hurt the combo. 
There's also a commercial motivation. Merck wants to show that a chemo-Keytruda combo as a first treatment is more effective for new patients than a sequence of chemo alone, followed by Keytruda. In the combo scenario, only Keytruda would be FDA-approved to treat patients. But once a patient has already tried chemo, then they'd be able to choose between Keytruda and other competing drugs. 
The long delay is a disappointment. But competitor trials are risky, too, and this move gives Merck a better chance at showing a survival benefit. Rushing things could sacrifice the long-term future of the medicine for a short-term trial win.
And that's not how Merck got to its current leadership position. 
To contact the editor responsible for this story:
Mark Gongloff at mgongloff1@bloomberg.net
Before it's here, it's on the Bloomberg Terminal.
LEARN MORE