When appeals to reason don't look like working, it's always good to have a bogeyman to scare people into submission.
That seems to be the strategy of Alstom SA and Siemens AG, which announced a deal to merge their rail operations last month to fend off the risk of competition from CRRC Corp., China's state-controlled behemoth. With CRRC posting its seventh consecutive quarterly revenue miss last week, though, this monster is starting to look a little moth-eaten.
Revenue in the third quarter came to 51.5 billion yuan ($7.7 billion), the company said Friday, a full 13 percent below the 59.8 billion yuan analysts had expected. Adjusted earnings per share, at 0.109 yuan apiece, were 5.2 percent below the 0.115 yuan estimate, meaning that six out of the past seven periods have disappointed.
In trailing 12-month terms, CRRC's revenue has been declining for two years now. The September quarter result was the weakest, outside the low-season January-March period, the company has posted since the 2015 merger that created it.
A key rationale behind the Siemens-Alstom deal is that CRRC dwarfs its non-Chinese rivals. That fact alone, combined with Beijing's expansionist industrial policy, creates a "long-term threat for competitors and thus, for customers' choices," Siemens said in a presentation last month. Perhaps, but in the mean time, the main threat to competition is the one posed by the merger of Alstom and Siemens themselves.
Let's take a look at the scary chart that begins Siemens' case for a deal: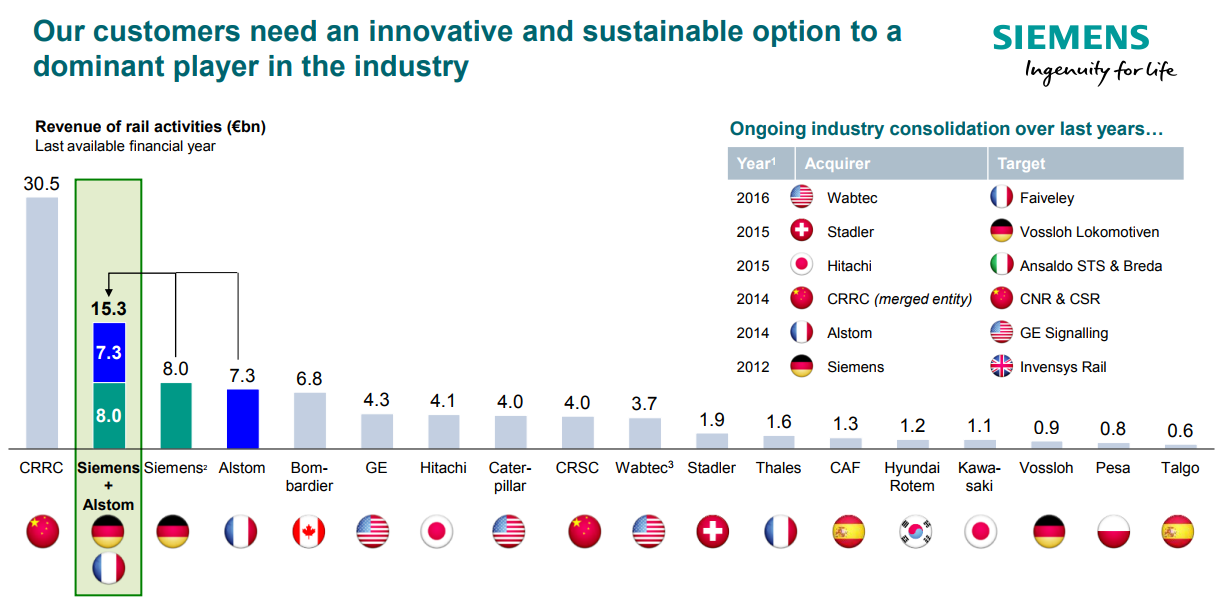 Alongside the giant revenue bar that Siemens attributes to CRRC, allowing the two European players to combine seems a barely adequate defense. What happens, though, if you exclude CRRC's domestic business where it has a near-monopoly, and concentrate solely on the international unit? Suddenly, the Chinese shadow looming over the global rail industry shrinks:
Siemens and Alstom aren't the only ones seeking to ramp up the threat. China under President Xi Jinping isn't averse to some nationalistic boasting, and CRRC has crowed about every contract win overseas as if it were on the brink of world domination. But contract wins are a notoriously unreliable way to judge the might of a business like this. One of the best ways to guarantee a lot of such self-congratulatory press releases is to price your bids so low that you end up losing money on the deal, a strategy that regularly causes contractors to bankrupt themselves.
CRRC's margins are too high for it to be heading toward bankruptcy. The company's mid-single-digit net margins look relatively stable next to the likes of Alstom, and fairly typical for the industry. But the explanation for that is another reason not to fear this specter: The fiercely competitive international rail market, where the pressures to under-price contracts will be most profound, is of only passing interest to CRRC.
Overseas revenue accounted for just 8 percent of CRRC's total last year, and analysts covering the stock pay scant attention to the international operations. They're more concerned about how government policy will affect the firm's major growth areas of maintaining existing Chinese rolling stock and developing new light rail networks for the country's cities.
On top of that, Alstom and Siemens are already moving away from the commodified rolling stock business, where CRRC poses the most profound threat. "Systems, signalling and services" are Alstom's main growth industry, forecast to account for 60 percent of sales by 2020, the company told investors last month. Siemens is similarly unexcited about carriages, as Gadfly's Chris Bryant has pointed out.
None of this is meant as a knock on CRRC, which at 12.3 times blended forward 12-month Ebitda doesn't even look especially expensive in enterprise-value terms. Its revenue might not mark it as a global threat on the scale European rivals have painted, but it's got a matchless footprint in the world's largest rail market, a peerless track record in supplying China's train boom, plus a proven ability to survive the shocks and turns of Beijing's industrial policy.
Still, those repeated earnings misses should be cause to question whether CRRC will meet such lofty expectations. Don't expect the world-domination train to be arriving any time soon.
This column does not necessarily reflect the opinion of Bloomberg LP and its owners.
To contact the editor responsible for this story:
Katrina Nicholas at knicholas2@bloomberg.net