Warts and All
Love Me, Love My Political Risk
With Xi strengthening his grip on power, more landmines lie ahead for advertising-driven businesses.
By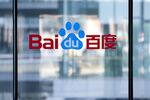 BAIDU INC - SPON ADR
-0.53
At Closing, January 18th
Baidu Inc. investors' recent complacency has been undone by political reality.
China's search engine giant unveiled third-quarter net income that was more than double estimates. Such a result highlights why the Nasdaq-traded stock has been bid up almost 60 percent since January.
There's a belief that Baidu's problems of last year, when the company drew consumer and regulatory scrutiny for its medical advertising, are behind it, along with its muddled online-to-offline attempts.
Yet investors sent the stock down as much as 15.2 percent in after-hours trading. That's because it forecast fourth-quarter revenue that may miss estimates -- a mid-point projection of 22.82 billion yuan ($3.4 billion) versus the 24.8 billion yuan figure sell-side analysts had been expecting. So you have an 8 percent sales shortfall triggering a 15 percent selloff.
One reason for the outsized response is that many investors simply wanted to cash in and were looking for any sign of weakness. Another explanation is that this tepid outlook indicates Baidu's advertising business model isn't fully rehabilitated, especially its exposure to Chinese political risk.
To be clear, some of the missing revenue comes from Baidu selling units, including its delivery business. Yet adding back those sales would have yielded growth of around 31 percent, still five percentage points shy of analyst estimates, and such a decrease should have been modeled by most brokers anyway. 
The rest of the shortfall comes from censorship, some self-imposed and some on the part of advertisers, but all stemming from either direct or indirect regulatory oversight.
In a nation where the government is the same as the Communist Party and authorities are prone to responding harshly to anything that may upset social order, political risk is never far away. As Bloomberg's David Ramli points out, weakness in fourth-quarter revenue is partly a result of the National Congress of the Communist Party of China, a meeting held every five years.
This gathering is regularly accompanied by a curbing of public events and general conservativism among advertisers who simply want to keep their heads down. That's not good for the consumer economy, and especially hurts those reliant on the sector, such as search engine operators.
Baidu itself admits that it hobbled its video streaming service, iQiyi, in order to avoid the wrath of the party during its moment of glory:
To show our respect, iQiyi adopted a self-restriction to not show hot series during this time.
It would be easy to write this off as a headwind to be faced twice a decade. But that would be naive. With President Xi Jinping strengthening his grip on power, more landmines lie ahead for Baidu's advertising-driven model.
That means political risk is the norm for Baidu, not a one-time effect. Investors had better price that in.
To contact the editor responsible for this story:
Katrina Nicholas at knicholas2@bloomberg.net
Before it's here, it's on the Bloomberg Terminal.
LEARN MORE