Elliott Management Corp. just struck its debut buyout. Don't be surprised if a second one follows close behind.
The firm late Thursday said its private equity arm, Evergreen Coast Capital Corp., agreed to acquire network-technology company Gigamon Inc. for $1.6 billion. Elliott had already taken an activist stake in the company, believing that it was undervalued and worth owning in its entirety. When no other buyers emerged, it stepped in.   
Elliott's success in the buyout business may prompt other activists to consider adding their own capabilities in this area to ensure winning campaigns. In the meantime, Evergreen could turn its sights next to Athenahealth Inc., the health-care technology company run by Jonathan Bush (the cousin of President George W. Bush and brother of Billy Bush). It's another of Elliott's activist targets and, like Gigamon, has so far failed to draw in potential suitors. 
At more than $5 billion (factoring in a takeover premium larger than the one that has already been built in), Athenahealth would be a massive bite for Evergreen, considering that it has to compete with the traditional type of investing that dominates Elliott's roughly $34 billion in assets under management. The firm's biggest positions include a $2.4 billion stake in NXP Semiconductors NV, a $1.9 billion stake in BHP Billiton PLC and a $1.3 billion stake in Arconic Inc., according to data compiled by Bloomberg.
Considering Elliott's partnership with private equity firms such as Insight Venture Partners on the purchase of E2Open Inc. in 2015 and Bain Capital LLC and Golden Gate Capital on BMC Software Inc. back in 2013, it would likely need to team up with buyout funds if it ends up pursuing an Athenahealth transaction.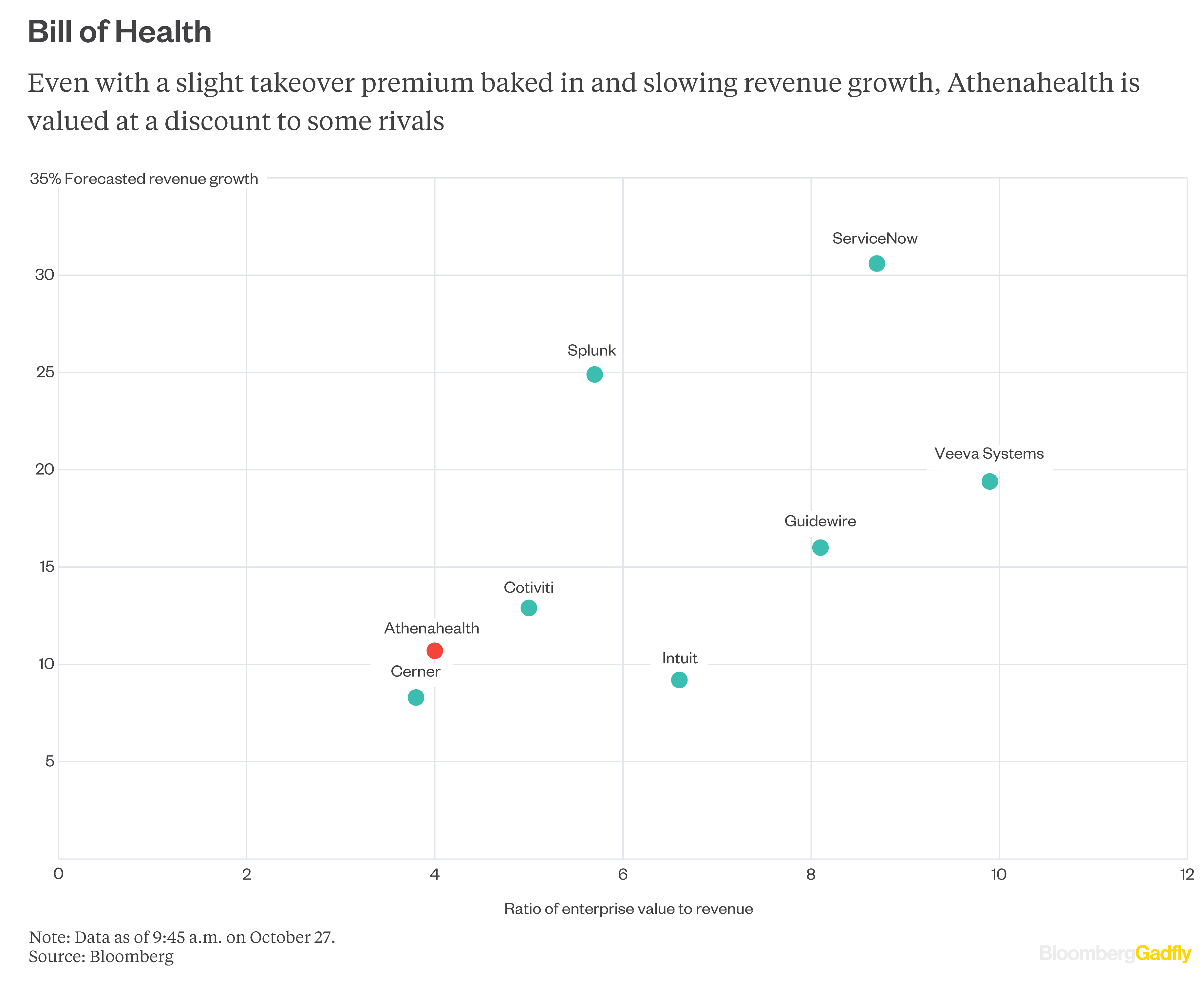 For its part, Athenahealth has made tweaks to compensation plans that suggest a sale could be near. On Friday, it unveiled benefits adopted earlier in the week that ensure senior staff are well taken care of in the event of a "change in control" or sale.  The generous plan involves the 100 percent payout of bonuses, two years of pay for Bush, 12 months of pay for presidents, executive vice presidents and senior vice presidents, and nine months for vice presidents, as well as ongoing health-care coverage for a minimum of nine months (or up to 18 months for Bush). Plus, all stock options and performance-based restricted stock are deemed vested and can be exercised by executives in the event of a sale. 
To be sure, nothing may happen on the deal front. But given that Evergreen's role as a buyer presents a viable alternative to no transaction at all, it wouldn't be shocking to see more of Elliott's present and future activist targets moving swiftly to finesse their own change-in-control provisions. 
--Chloe Whiteaker contributed the "Bill of Health" graphic.
This column does not necessarily reflect the opinion of Bloomberg LP and its owners.
Evergreen also put forth a bid for another Elliott activist target, Lifelock Inc., which ended up being bought instead by Symantec Corp. in February.

Evergreen also has access to a $5 billion pool of capital that Elliott has stockpiled for opportunities that could arise "when investor confidence is impaired, recent correlations and assumptions don't work, and prices are changing rapidly (and in the 'wrong' direction)," as reported by Bloomberg News back in May. I reckon it's less likely that it will choose to use these funds for a deal such as Athenahealth. 

If this sounds familiar, it's because I wrote about Paratek Pharmaceuticals Inc. making similar tweaks
To contact the editor responsible for this story:
Beth Williams at bewilliams@bloomberg.net