Split Personality
Goldman Sachs Is Having an Identity Crisis
The bank keeps trying on new personas; the old one may fit it best.
By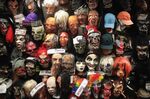 GOLDMAN SACHS GROUP INC
-2.21
At Closing, April 20st
ALPHABET INC-CL A
-12.13
At Closing, April 20st
Goldman Sachs Group Inc. can't seem to figure out what it wants to be.
Five years ago, CEO Lloyd Blankfein told investors he wanted to be the Wal-Mart of Wall Street. Last year, the bank launched a plan to be the Apple of finance. Six months later, Goldman ditched its Apple analogy for Google. Martin Chavez, the CFO, said he had adopted Eric Schmidt, the chairman of Google parent Alphabet, as his mentor.
Last month, in a new plan, Goldman said that it would drastically boost lending, making it more like rivals Wells Fargo or Bank of America than ever before. Now it seems the firm is returning to its roots. The bank, long a risk-loving proprietary trading firm, plans to plunge more of its own money into private equity investing, hoping to find the next Uber, exactly the type of business that Goldman, until very recently -- like this week -- said it was moving away from. Remember the image of Goldman blowing bubbles that went along with the infamous vampire-squid Rolling Stone article. Goldman recently announced it might be the first bank to formally jump into bitcoin trading. 
In one sense, Goldman's scattershot approach makes sense. The former King of Wall Street should look for any way to pull itself out of its surprising slump. Earlier this year, it had its worst trading quarter in its core fixed-income business in more than a decade. Its lending plan has been a dud so far with investors. Last week, the bank's better-than-expected earnings were unconvincing. Shares slid nearly 3 percent. Goldman's market cap is close to being eclipsed by longtime rival Morgan Stanley. So Goldman wants investors to know that understands it needs to do better.
But all the pivots, particularly lately, are increasingly making Goldman look adrift rather than on top of its problems. The truth is that Goldman probably needs to get back to being Goldman. Lending may boost the firm's revenue, but with the average loan producing net interest of just 2.4 percent at rival Bank of America, it's not a business that will get Goldman back to the 20 percent return on equity it used to post regularly. Private equity, on the other hand, could. But since the financial crisis, Goldman's investors have been wary of risky businesses, which is most likely the reason the bank's shares dropped after its most recent earnings report. Its better-than-expected results came mostly from private equity gains. Regulators, too, again until just recently, have wanted the banks to be in the slow lane.
So Goldman's best course of action may be to tell investors it plans to be Wal-Mart or Apple, even if in reality it wants to be more like its old self. So far investors aren't buying the wolf-in-sheep's clothing routine.
(
Corrects the name of Goldman Sachs's chief financial officer in the second paragraph.
)
To contact the editor responsible for this story:
Daniel Niemi at dniemi1@bloomberg.net
Before it's here, it's on the Bloomberg Terminal.
LEARN MORE