Traders on Wednesday seemed to think there were some positive signs in LG Display Co.'s latest results, pushing the stock up as much as 3.7 percent in early trading. To be fair, they have beaten it down 24 percent since July.
South Korea's second-largest flat-panel maker posted third-quarter revenue and net income that beat estimates, but there was enough in the earnings and its investor conference call to warrant continued caution. Operating profit, for instance, missed for a second time.
At the top line, sequential sales growth was the least in four years, suggesting softening momentum. 
TV demand was weak, defying what should have been a seasonal pickup, especially in markets such as North America where the trend is toward larger screens. As a result, TVs' contribution to revenue fell while a new smartphone cycle helped that category contribute more.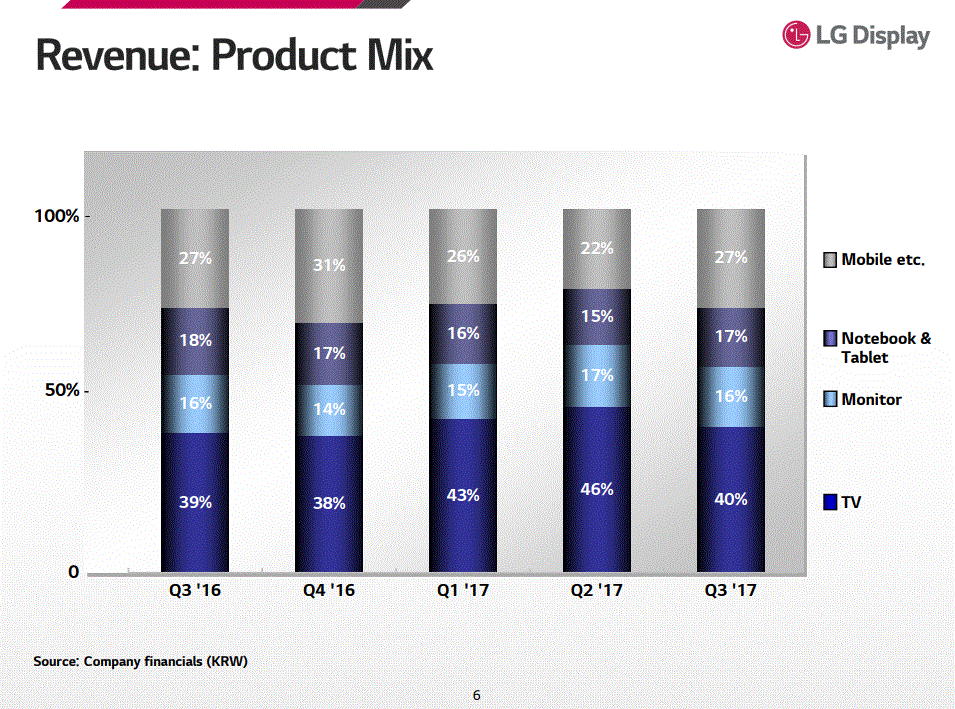 This resulted in a 4.8-percentage-point narrowing in gross margin, the largest quarter-on-quarter decline for seven years. There was a similar drop in operating margin.
Yet it's the outlook that deserves the most attention. 
Guidance going into the fourth quarter wasn't very compelling, as executives pointed to a slight rise in shipments coupled with a decline in average selling price. They also said a recent increase in capital expenditure would push depreciation up by around 40 billion won ($35 million) in the fourth quarter. That's a 5.4 percent increase, by Gadfly calculations, which will drag on the bottom line.
I expect depreciation to continue rising as LG Display rolls out an aggressive 20 trillion won expansion into organic light emitting diodes (OLED) over the next few years.
This indicates profit margins may continue to drop because there's little to suggest liquid crystal display TV demand will pick up significantly, while OLED capacity will take a long time to come on stream. The technology won't start churning out an operating profit until the second half of 2018 at the earliest.
Executives spent a lot of time playing up the future of OLED TVs and their plastic OLED (pOLED) technology, while a shortage of screens for the iPhone X has highlighted their potential on mobile. Yet OLED will account for just 10 percent of sales this year rising to 20 percent in 2018.
I don't buy the pitch that OLED screens will be enough to justify significantly higher TV prices or drive demand. The same was said of 3D displays, 4K resolution TVs and even curved panels. At best they will likely slow price declines over the long term.
In Wednesday's conference call, the company also made the audacious prediction that industry players next year will shift from pricing based on supply-demand balance to a profit-driven approach. But with factory depreciation being such an important cost component, and Chinese entrants set to flood the market, it would be a brave executive who decides to shut production lines in the belief he can preserve average selling prices.
It's possible that this statement was meant as a signal to competitors rather than the market. After all, those infamous Crystal meetings showed a propensity to coordinate among rivals. But even cartels have trouble sticking to a plan (op. cit: OPEC).
That means LG Display may face a tough few quarters before its bet on OLED starts to kick in.
This column does not necessarily reflect the opinion of Bloomberg LP and its owners.
To contact the editor responsible for this story:
Matthew Brooker at mbrooker1@bloomberg.net