Below Reserve
R&F's Latest Headache
The developer either has to raise fresh funds or ease off its strategy of accumulating assets with debt.
By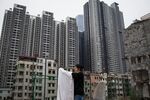 Poor Guangzhou R&F Properties Co.
China's third-most-indebted developer, already burdened by its acquisition of Dalian Wanda Group Co.'s hotel portfolio, has once again had to push back its A-share listing, just as more evidence emerges the government's real-estate-cooling measures are starting to bite.
R&F said Sunday its planned float of shares in China, mooted as far back as May 2007, will be suspended again pending a change of sponsor. The setback is no small matter: R&F, whose shares are traded in Hong Kong, said in 2015 that it wants to raise as much as 35 billion yuan ($5.3 billion) in a secondary mainland listing, which at those levels would make it the fourth-largest A-share debut on record.
Now R&F has to contend with an increasingly unexciting property market. New-home prices, excluding government-subsidized housing, rose in 44 of 70 cities in September compared with 46 in August, the National Bureau of Statistics said on Monday. Prices fell in 18 cities from the previous month, and were unchanged in eight.
To be sure, R&F is in no immediate danger of a liquidity crisis. It had 32.4 billion yuan in cash as of June, more than enough to meet the 14.2 billion yuan of obligations that fall due through 2019, according to Bloomberg Intelligence analyst Kristy Hung. The company is also on track to reach its target of selling 80 billion yuan of apartments and offices this year, having offloaded almost three-quarters of that by September.
That may serve R&F well this year, but real-estate gains are far from assured. President Xi Jinping, in his address to the 19th Party Congress in Beijing last week, renewed his call to ensure housing market stability and pledged that authorities will help meet demand by adding more supply of homes.
If R&F isn't careful, its leverage could soon rival China Evergrande Group or Sunac China Holdings Ltd., which also acquired Wanda assets. Evergrande has said it plans to bring its net debt-to-equity ratio down to around 70 percent by June 2020, while Sunac has promised a reduction to less than 80 percent by the end of 2018.
R&F either has to raise fresh funds via a listing in China or ease off its aggressive strategy of accumulating assets with debt. Investors should hope it takes the more prudent route.
To contact the editor responsible for this story:
Katrina Nicholas at knicholas2@bloomberg.net
Before it's here, it's on the Bloomberg Terminal.
LEARN MORE