Frankfurt might not want London's Brexit-fleeing bankers, as my colleagues on Bloomberg Businessweek reported this week. But senior financiers suddenly seem pretty keen on a place that's always been an assignment to avoid.
Lloyd Blankfein's tweet on Thursday about spending "a lot more time there" may have been tongue-in-cheek, as his advisers claimed. But the decision by Goldman Sachs Group Inc. to lease Frankfurt offices, with space for 1,000 staff, is serious enough.
One of the attractions is how cheap Frankfurt housing is compared to London, as explained in this excellent Bloomberg News piece. But prices are rising there pretty quickly, which is why the residents are getting in a lather about the imminent arrival of Blankfein's merry band. Look at this chart, which shows the recent housing market performances of London and the cities hoping to snag its finance jobs.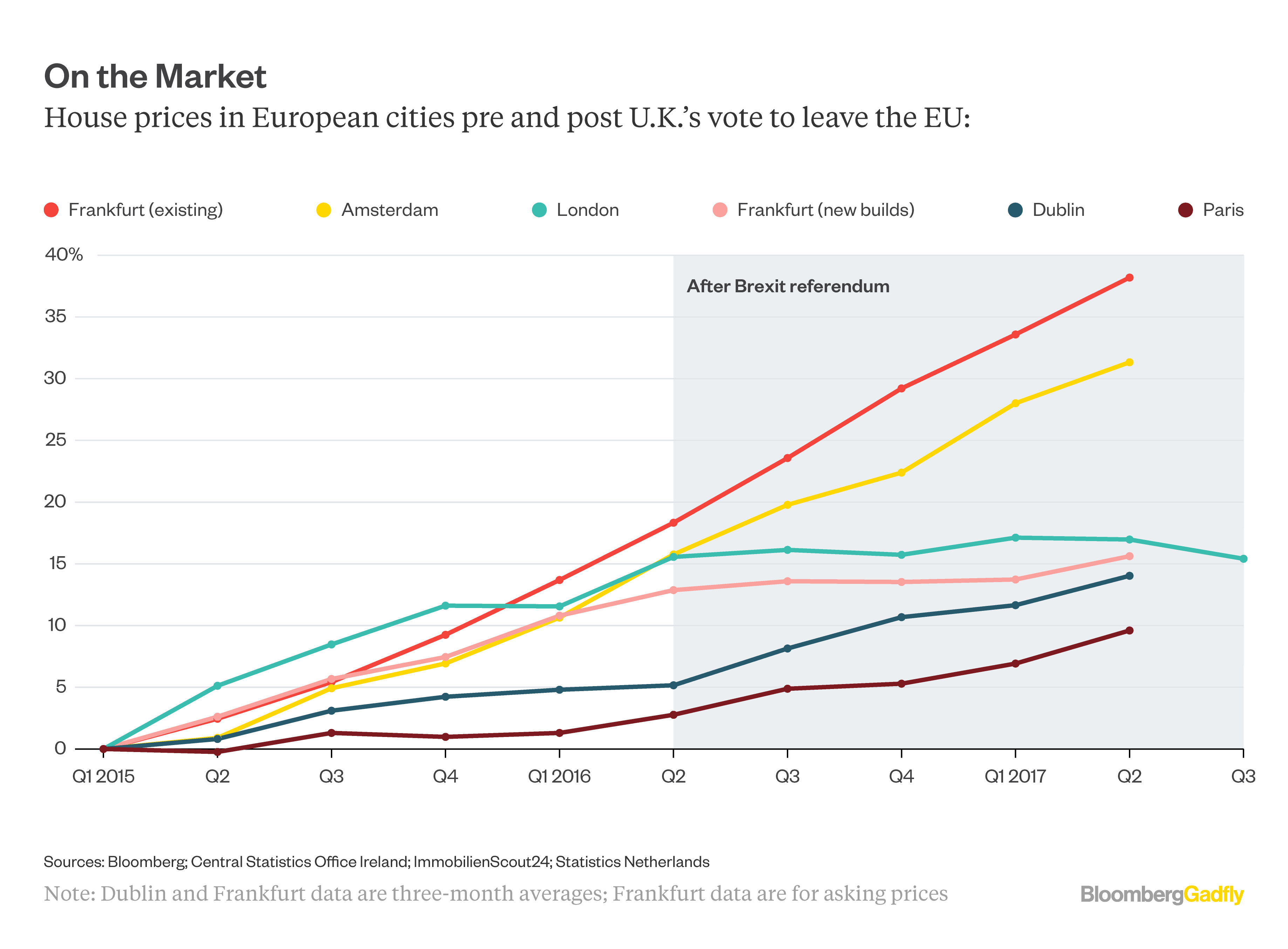 Now, there are lots of reasons why the housing markets of Frankfurt and the other post-Brexit hopefuls are doing so well. It's not just anticipation of a great banker influx. Similarly, London's increasingly weak performance is caused by factors such as higher stamp duty and fear of a hard left Labour government under Jeremy Corbyn, as much as Brexit worries.
But with UBS suggesting that most of these cities are already either "bubble risks" or overvalued, you can understand why residents are nervous about importing London's property mania. For Londoners, the reverse may be true and people locked out of the market may finally have a way in -- so long as Brexit doesn't lay waste to the economy.
For London's wealthier asset owners, the chart is yet another unhappy confirmation of the likely penalties from Brexit.
This column does not necessarily reflect the opinion of Bloomberg LP and its owners.
To contact the editor responsible for this story:
James Boxell at jboxell@bloomberg.net