Bad Robots
Amazon's Warehouses Aren't Paved With Gold After All
The thematic bet on all-things e-commerce-related isn't a dead cert.
By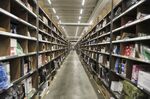 AMAZON.COM INC
-1.68
At Closing, January 18th
During California's gold rush, one well-trodden path to riches was selling pickaxes and other handy tools. Today's digital equivalent might be the providers of warehouse automation to e-commerce giants like Amazon.com Inc, Alibaba Group Holding Ltd and JD.com Inc.
As a result, companies such as Germany's Kion Group AG have won fans among so-called thematic investors, who will take a broad trend like e-commerce and bet on what ancillary industries will profit. To be sure, these kinds of wagers are more intellectually satisfying than, say, just buying an S&P500 index fund. But jumping on a theme doesn't always guarantee a smooth ride.  
Kion was owned by Goldman Sachs Group Inc and KKR & Co before listing in 2013 and its main product remains the humble forklift truck. Last year, it expanded its warehouse equipment portfolio with the $3.25 billion acquisition of Dematic Corp. Dematic sells conveyor, picking and pallet systems -- the stuff used by e-commerce and logistics companies to automate storage and order processing. Despite worries that Kion had overpaid (and two capital increases to fund the deal) the shares have been on a tear ever since.
On Thursday, Kion came back to earth with a bump. Order intake at its supply-chain business, mainly Dematic, is weaker than expected. Some customers have delayed projects, while others have defected to rivals after delays caused by operational issues at Dematic's Mexican plant. As a result, full-year sales at the unit could be as much as one-fifth lower than anticipated. 1 The stock fell about 13 percent.
The broader industrial changes driving Kion's supply-chain automation sales haven't suddenly gone up in smoke; consumer goods companies are still under pressure to speed up order fulfillment and cut labor costs. But Kion's orders are lumpier than investors might have realized.
While customers like Amazon are in fine fettle, that is cannibalizing the business of other Kion clients, including American retailers. It's not surprising that they are hesitating about investments, even if more e-commerce and automation is arguably their path to salvation. 
Kion's management should have done a better job in flagging these issues, but shareholders -- who get excited at the slightest mention of e-commerce exposure -- share some blame here. True, sales of warehouse automation equipment will probably increase much faster than those of Kion's forklifts, but the supply-chain unit still accounts for only one-quarter of group sales.
The stock's recent rally owed as much to the expansion of Kion's price/earnings multiple as signs of accelerating profit. After today, investors may take a bit more convincing that Amazon's warehouses truly are paved in gold.
To contact the editor responsible for this story:
James Boxell at jboxell@bloomberg.net
Before it's here, it's on the Bloomberg Terminal.
LEARN MORE