Invasion
European Discounters Are Coming for Your Retail Sales, America
The European discounters start slowly but play a long game.
By and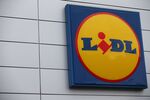 WALMART INC
+0.12
At Closing, February 23th
TESCO PLC
-0.90
At Closing, February 23rd
As if U.S. brick-and-mortar retailers didn't have enough to worry about with Amazon.com Inc., now they face another threat: European discounters.
The German grocer Aldi has been in the U.S. for decades, but it's elbowing deeper into the market with a recent pledge to open 900 more stores in the U.S. over five years. Its compatriot and rival Lidl has just joined it here, as has the Irish clothing retailer Primark. The latter two haven't disrupted U.S. retail too much yet -- but if their track record is any guide, they just might. 
Lidl has opened 38 stores in the U.S. since June, mostly down the southern stretch of the East Coast. 
Some recent store-traffic data from marketing firm InMarket suggest Lidl hasn't yet taken shoppers by storm. But U.S. retailers shouldn't be lulled into a false sense of security. Look, for example, at what happened when these grocers set their sights on the U.K.
It took 20 years for Aldi and Lidl's sales to take off in that market after their arrival there. When they did, it was partly because the big British supermarkets, led by Tesco Plc, became less price-competitive. But the no-frills German supermarkets also adjusted their offerings to better suit U.K. tastes, introducing up-market fare and more fresh food. Lidl is already applying the lessons it has learned to the U.S. -- offering in-store bakeries, for example -- and will likely evolve further.
Aldi is also adapting, modernizing the majority of its existing American stores. It arrived some 40 years ago; as in the U.K., it has been a slow burn. But over the past five years, its U.S. store numbers -- and sales -- have ballooned, according to research firm Kantar Retail. It has accomplished this by tapping not only its traditional shopper base of bargain-hunters, but more affluent consumers, too.
One clear sign these retailers are well-positioned to steal market share is that they really aren't kidding about the whole "discount" thing. Recent research by Gordon Haskett Research Advisors finds they are undercutting even Wal-Mart Stores Inc. on price. 
Primark, the value-fashion retailer owned by Associated British Foods Plc, is also taking things slowly since opening its first U.S. store in Boston just over two years ago. It will open its ninth next year in Brooklyn.
There's good reason not to rush: The track record of British retailers trying to make it in the U.S. market is not great. Such venerable names as Tesco and Marks and Spencer Plc aimed to build big businesses across the Atlantic, only to see their American dreams end in tatters.
But as Gadfly has argued, Primark is a good candidate to be the first British retailer to crack America – and not just because of its H&M fashion at K-Mart prices. Its arrival has coincided with a surfeit of space in U.S. malls. Despite broader trends of sluggish mall traffic, Primark is already drawing shoppers in the malls where it has opened. That could encourage landlords to offer it attractive terms to set up shop in other locations. 
ABF hasn't set out its longer-term plans for Primark in the U.S yet, saying it will consider its options once it has reached its goal of ten stores. But while its store base may be small, no major retailer invests in a market as huge, competitive and lucrative as the U.S. without very big ambitions.
Some American retailers may be inclined to brush off the threat from Lidl and Primark -- not to mention the more-established Aldi -- because they are discounters, and certain legacy players don't think of themselves that way. But if the European chains get their execution right, then they could pull share from a wide range of rivals.
Primark, for example, doesn't just sell cheap chic women's fashion. With menswear, home furnishings and children's clothes, it could easily serve the whole family, threatening Gap Inc.'s crown jewel Old Navy. Kohl's Corp. and J.C. Penney Co. Inc. should also consider themselves on notice.
While the European discounters' presence in the U.S. might still be modest, they are all used to playing a long game. Primark, which began in Dublin in 1969 as Penneys, is forecast to overtake Next as the second-biggest clothing retailer in the U.K. by market share next year, according to research firm GlobalData. It has also built a significant business elsewhere in Europe.
Aldi and Lidl, meanwhile, have outposts across multiple markets in Europe and Scandinavia -- with Aldi also in Australia -- no mean feat, given the local nature of food retailing. Each is among Europe's largest grocers by sales. They are also privately owned, which means they don't have to cater to the whims of public shareholders. 
U.S. retailers should keep a wary eye on their shores. 
To contact the editor responsible for this story:
Mark Gongloff at mgongloff1@bloomberg.net
Before it's here, it's on the Bloomberg Terminal.
LEARN MORE