Weak Hand
Citigroup Hasn't Played Its (Credit) Cards Right
A renewed push into the business isn't paying off.
By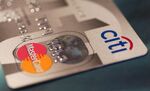 CITIGROUP INC
+0.81
At Closing, February 23th
Citigroup Inc.'s big bet on the credit-card business has been a bust so far. Thankfully for shareholders, the bank has been on a roll otherwise lately.
Citi said Thursday morning that earnings per share rose nearly 15 percent to $1.42, which was better than the $1.31 analysts were expecting. The bank's revenue of $18.2 billion also exceeded expectations, though without a one-time sale it would have been down from a year earlier. 
But the improvement in most of Citi's businesses didn't spill over into credit cards. The bank said that it had $1.2 billion in losses at its consumer lending business in North America, mostly driven up by unpaid credit-card balances. Worse, the bank put aside another $500 million in its loan-loss reserve account mostly for cards, an acknowledgement that improvement in the segment could be further off than expected. Overall, revenue in the card business was down just 1 percent. 
Citi all but gave up on its credit-card business in 2009, part of its broad retreat after the financial crisis. A few years ago, it realized that was a mistake. Starting in 2015, the bank began investing in the division again, particularly going after the branded business of retailers.
Its biggest move came a year ago when it undercut American Express Co. and took over Costco Wholesale Corp.'s card business. Citi executives have warned that the expansion would boost costs and losses for a time. But they have repeatedly said that investors would see an improvement starting in the second half of 2017. In the third quarter, at least, the payoff wasn't evident. Credit-card loans were up just 1 percent from the quarter before. Credit-card margins, as a percentage of loans, dropped to 7.3 percent, down from 8.7 percent a year ago. And credit-card losses were up 36 percent, to $611 million, from a year ago.
Overall, Citi has rebounded from the financial crisis. But much of  its rebound has been in Wall Street's riskier or more volatile areas. Citi now gets nearly 20 percent of its revenue from trading, up from 16 percent a few years ago. It has a growing business, once again, in CDOs, one of the credit derivatives that caused the most pain in the financial crisis.
Citi's renewed push into credit cards was an attempt to build up the part of its operations that investors generally have seen as safer. And because of the consistently higher rates it can charge on credit-card balances, the business can generate healthy profits even as benchmark interest rates remain low. Of course, other banks have noticed that as well.
Citi investors may be willing to hold on to their shares for now, in large part because a more accommodating Washington will allow it and other banks to return to investors more of the excess capital that they had been forced to hold after the financial crisis. But eventually that capital return will run its course. If Citi's cards business doesn't improve soon, investors may look more closely at their stake in the bank and say, "Fold."
(
The second sentence of the third paragraph of this story was corrected to clarify that the $1.2 billion in losses were from Citigroup's North American consumer lending business, not  credit cards alone.
)
To contact the editor responsible for this story:
Beth Williams at bewilliams@bloomberg.net
Before it's here, it's on the Bloomberg Terminal.
LEARN MORE