trade winds
Goldman Becalmed in Asia
Universal banks serving less adventurous corporate clients now rule the roost.
By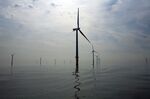 GOLDMAN SACHS GROUP INC
+5.34
At Closing, February 23th
CITIGROUP INC
+0.81
At Closing, February 23th
Placid markets are making winners of universal banks such as Citigroup Inc. in Asia, while Goldman Sachs Group Inc. has stumbled. It will be a while yet before the Wall Street powerhouse recovers its mojo.
Citigroup was the best performer in Asia-Pacific in the first half of the year, according to rankings compiled by Coalition Development Ltd. The London-based analytics company lists the world's biggest institutions based on the three main areas of investment-banking activity: advising on deals, from mergers to initial public offerings; trading bonds, currencies and commodities; and trading equities.
Citi's strength was no outlier, with universal banks occupying the first three places. JPMorgan Chase & Co., which topped the table in 2016, was ranked second, while London-based HSBC Holdings Plc jumped to third from seventh last year. Goldman, meanwhile, dropped to seventh -- the New York-based bank's lowest rank among the three global regions and its worst performance in Asia since Coalition began publishing the data seven years ago.
The outperformance of universal banks reflects their advantage in trading fixed-income products for companies, as opposed to the hedge funds and other institutional investors that are the preserve of Goldman. Hedge funds tend to trade more when market volatility is high, as last year when the Brexit vote and Donald Trump's victory in the U.S. presidential election shook markets. Goldman posted a 40 percent slump in global fixed-income, currencies and commodities trading revenue in the second quarter, as well as its worst-ever result for commodities.
With Chinese banks undercutting global rivals on fees for arranging IPOs and bond sales, it's no wonder that Western firms' revenues have barely risen this year. China's clampdown on capital outflows has also hit a large portion of their M&A advisory business as mainland companies hold back on major overseas deals.
Banks continue to pare their workforce in Asia by more than in the U.S. Western firms reduced jobs by 6 percent in the first half in Asia compared with a year earlier, versus a 2 percent decline in the Americas, according to Amrit Shahani, research director at Coalition. Goldman was among banks to cut employees last year; Standard Chartered Plc and Barclays Plc pruned entire divisions.
The rest of the year may turn out better for Goldman, if volatility recovers from its unusually subdued levels. The bank earns the most from FICC trading among its peers globally, according to Bloomberg Intelligence, but in Asia it specializes in equities and structuring complex bets. A pick-up in stock derivatives trading would help Goldman, along with others that have strength in this area.
UBS AG, for instance, is bound to have done well out of arranging the "collar" trade that Chinese conglomerate HNA Group Co. used to buy into Deutsche Bank AG this year. The importance of equities can't be overstated: Share trading makes almost as much money in Asia as FICC, the biggest source of revenue for banks. By contrast, equities generates about half as much as fixed income in North America or Europe.
Still, volatility remains low, for now. In that environment, firms serving corporations are likely to do better than those with hedge fund clients. The region's companies are notorious for paying low fees on acquisitions or underwriting bonds and stocks -- but are happy to fork out for fixed-income trades. 
The universal banks' reign in Asia still has time to run.
To contact the editor responsible for this story:
Matthew Brooker at mbrooker1@bloomberg.net
Before it's here, it's on the Bloomberg Terminal.
LEARN MORE