El Classico
Real Madrid Tycoon May Be Thwarted By Barcelona Politics
Spain would no doubt rather keep Abertis Spanish, but a Florentino Perez counterbid would face daunting challenges.
By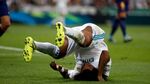 ABERTIS INFRAESTRUCTURAS SA
+0.04
At Closing, March 19th
It's hard to imagine a more awkward moment to attempt a 17 billion euro ($20 billion) takeover of a company intertwined with Catalonia's economy. The inflamed tension around the secession movement complicates the Benetton family's attempt to acquire Abertis Infraestructuras SA as well as Real Madrid president Florentino Perez's likely aspiration to thwart it.
The Spanish market regulator has just approved the bid for the Barcelona-based toll-road operator unveiled in May by Atlantia Spa., the Italian peer in which the Benettons have a 30 percent stake. That paves the way for Atlantia to formalize the timetable for its offer, in turn setting the clock running on a possible counterbid from Perez.
It comes as the Abertis board is studying whether to relocate its headquarters out of Catalonia. Changing address might soothe investor fears about the risk of ceasing to be a Spanish and European company. But it won't immediately simplify the politics of the bid or any counter-offer.
Recent events have made things look more expensive for whoever buys Abertis. About a quarter of the business is in Catalonia, according to Kepler Cheuvreux research, with its roads carrying traffic from France to other regions of Spain. Even if the extreme scenario of a full exit from Spain doesn't happen, ongoing political instability could be damaging for the business as protests or strikes reduce traffic and cut toll road revenue.
Moreover, Abertis is in litigation against the central government over a compensation agreement relating to guaranteed traffic. 
For the Benettons, the risk of short-term disruption doesn't undermine the takeover's rationale. The acquisition is largely driven by the desire to diversify Atlantia away from Italy. Cars will drive around Catalonia whatever its government.
Likewise for Perez. The attraction for him would be diversifying Madrid-based Actividades de Construccion y Servicios SA, which he chairs and co-runs, away from construction. That logic still holds.
The situation is pulling Spain's central government in different directions. Abertis is an influential global company with operations in Latin America. Letting it pass into Italian hands would be hard to swallow. But any move by Spain to put obstacles in Atlantia's way would create other problems.
Thwarting a cross-border deal would irritate Spain's European Union partners, Italy especially, at a time when Madrid will be wanting allies. Economy minister Luis de Guindos has reportedly said Spain would take a "neutral" stance on the bid. Spain could use Atlantia's interest to show it is attractive to inward investment despite the turmoil. 
Doubtless the government would prefer Abertis to remain Spanish. But Perez's ties to the Spanish capital might be provocative at a time of extreme tension with the Catalans.
Investors are judging that Perez still has more reasons to make a counterbid than not. Some funds are buying Abertis stock while shorting Atlantia: a bet that an ACS counterbid would in turn force Atlantia to pay more, putting pressure on its own shares.
It's a close call. Abertis shares are hovering at 17.35 euros a piece, against an Atlantia cash-and-shares offer currently worth 17.15 euros per share based taking the maximum stock component. Given the complexities, it's not surprising that investors aren't willing to bet more heavily on an auction.
To contact the editor responsible for this story:
James Boxell at jboxell@bloomberg.net
Before it's here, it's on the Bloomberg Terminal.
LEARN MORE