Read It and Weep
Back to the Onion Futures, India
A proper derivatives market would help take the edge off price spikes.
By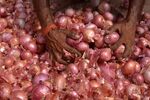 Are speculators the villains of Indian farming, or its saviors?
To judge by the government's response to a spike in onion prices this year, you'd say the former. The crop was suffering through an 18-month slump in mid-July when word began to creep out of harvest failures in Karnataka state and the collapse of an agricultural-purchase program in Madhya Pradesh, hitting supply from two of the three biggest producing regions.
Prices went vertical, rising from 400 rupees ($6.12) per 40 kilogram lot on July 19, to 1,200 rupees three weeks later.
Blame quickly shifted to speculators, with the income tax department raiding the offices and premises of seven traders accused of hoarding product around Nashik, the hub of the country's onion trade northeast of Mumbai in Maharashtra state. India's agriculture ministry has since demanded that Maharashtra investigate whether a cartel was operating in the onion market, the Indian Express reported last month.
The situation echoes the sequence of events that led to the U.S. Congress outlawing onion futures in 1955, but India should learn from the history of that legislation (which failed to quell volatility in allium prices) and do the opposite. Onion derivatives are an idea whose time has finally come.
India was once a pioneer in derivatives markets, with cotton futures first traded in Bombay in 1875, just a decade after the Chicago Board of Trade standardized the first futures contracts on grain. Central planning after independence in 1947 saw futures trading gradually banned until the economic liberalization of the 1990s started to unlock the market. Agricultural commodities trading has grown quite rapidly since.
Contracts are now available on crops as diverse as turmeric, coriander and soybean, while around 47,000 farmers nationwide are linked to the trading platforms run by the National Commodity & Derivatives Exchange Ltd. or NCDEX. Price ticker boards have been rolled out to more than a thousand town and village markets around the country. 1 Even so, the market remains relatively undeveloped versus other countries, and often appears to be as much a plaything of bored stock investors as it is for producers and consumers of farm products to hedge pricing risk.
Some of the problems in India's onion market are baked into biology. About 60 percent are the winter rabi crops harvested in April and May, so stocks tend to be running low by the time the monsoon-grown kharif crop is harvested in October and November. That leaves the market vulnerable to shifting updates about the impact of the monsoon on kharif crops in the fields and rabi stocks in storage. The onion price spikes over the past decade have all tended to coincide with India's wet season.
It's a tricky situation, but government intervention has hindered, rather than helped. The most obvious proximate cause of this year's bubble was a program in June to purchase crops from protesting farmers in Madhya Pradesh. With the government unable to warehouse all the onions it had bought, tens of thousands of tons were left rotting in fields and unofficial dumping grounds, just as drought in Karnataka left the whole country running short.
The program failed for those it was meant to help, because any farmer who sold his crop to the government for 6 rupees a kilogram missed out when prices jumped to five times that two months later. Meanwhile, traders able to use the black market to get their hands on the product selling for 2 rupees a kilogram in state ration shops and then sell it at open market prices would have made out handsomely.
Futures trading alone won't solve this, but it's a crucial part of the picture. The strong seasonality of India's produce markets is precisely the sort of problem that modern derivatives and cold-storage supply chains were designed to solve -- there's a reason American turkeys are cheapest just before Thanksgiving. Under current arrangements, though, pricing risk is largely taken by farmers and small-scale traders, who have little incentive and less capital to invest in facilities like a 50 million rupee onion warehouse.
Opening up international trade would also be a good idea: India exports a lot more onions than it imports, and a more balanced picture would go a long way to taking the edge off price spikes.
It's no surprise that action on this front has been slow in India, where onion prices can be a notoriously controversial subject. NCDEX had announced plans to offer onion futures in 2006, in 2008 and in 2013, but backed away each time. Surging prices have been blamed for the falls of governments in 1980 and 1998, and Prime Minister Narendra Modi was pictured on billboards in the run-up to his 2014 election shaking his fist about the cost of the vegetable and vowing change. Three years on, it's time he followed through on that promise.
One 2011 study of prices for nine Indian foodstuffs including wheat, chickpeas, mustard seed and cumin found that price volatility declined after futures contracts became available, in contrast to the somewhat mixed evidence around U.S. onions.
To contact the editor responsible for this story:
Katrina Nicholas at knicholas2@bloomberg.net
Before it's here, it's on the Bloomberg Terminal.
LEARN MORE