Part of President Donald Trump's financial deregulation agenda appears to be an effort to increase the number of public companies in the U.S. We'll see about that. 
On Friday, the Treasury Department published a 220-page report, the second of four installments stemming from a February executive order demanding a comprehensive review of U.S. financial regulations (the first focused on banks). One of its concerns is the dwindling number of public companies in the U.S., a figure that has fallen to some 4,000 -- nearly half the level of the mid-1990s, as seen in this chart from the report: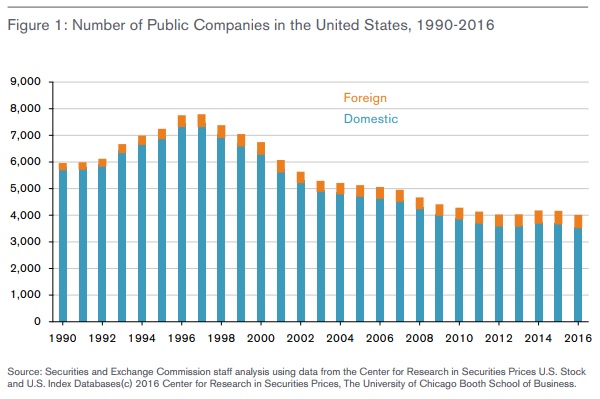 Treasury has a series of recommendations designed to arrest this decline by making life as a public company more appealing.
Some have more heft than others: One proposes formalizing the ability of any company to gauge investor interest before pursuing an IPO (even though, let's be honest, this already occurs on Wall Street in forums such as the ICR Conference). Another seeks to raise the bar of difficulty for shareholders wanting to lob proposals into company proxies. 
But other recommendations barely move the needle, including the proposed elimination of duplicative requirements, which has been under review by the SEC since 2013. Another uninspiring suggestion is the removal of the disclosure associated with the pay ratio, which allows investors to compare CEO compensation to the median of the annual total compensation of the rest of an issuer's employees. Importantly, the relevant section of Dodd-Frank has already been amended to exempt emerging-growth companies from this requirement. 
As for other proposed changes that would ease the strain of being public, a handful go a little too far. For instance, Treasury reckons mining and energy companies shouldn't have to disclose the amounts they're paying to the U.S. federal government or foreign governments, or violations of health-and-safety standards at mines. The proposed rule changes would also give them a pass on disclosing whether certain minerals such as gold originated from armed groups that could use the money they receive to finance conflicts, contributing to humanitarian crises.
Treasury's argument is that such information isn't important to "reasonable investors" and that public companies are being penalized because their privately held counterparts aren't subject to such scrutiny. But from where I sit, even though such disclosures are a burden, it's a rite of passage and a price that public companies pay because it maintains a level of transparency and prevents shady activity. And if the cost is also borne by investors, so be it. 
The government is also seeking to broaden the definition of smaller reporting companies -- currently defined as those with market values of $75 million or less -- by lifting the ceiling to $250 million. Loosening such requirements could end up hurting businesses (and investors) if it facilitates the listings of a string of smaller, relatively unproven (and unready) companies like Yogaworks Inc.
Even if relaxing regulation results in more IPOs, the number of public companies is likely to remain relatively unchanged over time.
Why's that? Well, a steady stream of mergers means public companies have been picked off at a pace of almost seven a week so far this year alone. That trend is unlikely to die down anytime soon, with acquirers ranging from growth-hungry rivals to special purpose acquisition companies and private equity firms (as well as the companies they control) all on the prowl.
As long as that dynamic exists, obvious IPO candidates -- such as those found in private equity portfolios -- will also get snapped up before they can make it to market.
A recent example of this occurred this week when CompuCom Systems Inc., which has been owned by no less than three private equity firms since being taken public 13 years ago, agreed to be acquired by Office Depot Inc. for $1 billion. Other companies that have grown through venture capital backing (such as Blue Bottle Coffee and Plated) will similarly be snapped up, but the giants among them, such as Uber Technologies Inc. and Airbnb Inc. have little choice but to go public because of their size. And any deregulation push is unlikely to have a sway on those outcomes. 
Bottom line? While the Treasury Department's efforts in this area are well-intentioned, any impact is likely to be negligible. 
This column does not necessarily reflect the opinion of Bloomberg LP and its owners.
To contact the editor responsible for this story:
Beth Williams at bewilliams@bloomberg.net