Surrender
Allergan Needs to Learn to Let Go
Pressing ahead after mixed data is usually a recipe for failure.
By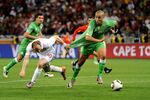 ALLERGAN PLC
-0.43
At Closing, February 16th
"Never give up" is inspirational advice, but not always suited to the pharmaceutical world. 
Allergan PLC announced mixed results Friday from a mid-stage test of cenicriviroc -- a drug for the liver disease NASH -- but it still plans to continue a larger final-stage test. 
While the company excels at a lot of things -- including inventive but morally dubious patent maneuvering, selling Botox, and timing the top of the generic drug market  -- its R&D decision-making has been more questionable. 
Cenicriviroc already has a checkered history. Original owner Tobira Therapeutics Inc.'s shares plunged last year after this drug failed on the primary measure of success in a mid-stage trial. But it showed promise on a secondary measure, and that was enough for Allergan to pay a huge premium to buy the company in November 2016. 
The data released Friday, from the second year of that mixed trial, do little to assuage concerns. Allergan justified moving forward by slicing and dicing the numbers to find the drug benefited some sicker patients, and it blames missing data and a high placebo response rate for the weak overall results. The company will discuss this data with regulators to determine if changes to its final-stage trial are needed.
But the history of such post-hoc subgroup analysis is checkered at best. And the upside of the drug may be contained to the sickest NASH patients, even in a best-case scenario.
NASH is a promising market; as many as 15 million Americans may have the condition. But it's an especially tricky disease on which to gamble. It's not especially well-understood, it's hard to diagnose, and it can progress very slowly in some patients. Potential competitors abound, including giants such as Gilead Sciences Inc. and smaller firms such as Madrigal Pharmaceuticals Inc.
This is just one part of Allergan's broad pipeline, and the company's overall strategy of investing more heavily in new drugs is smart as it tries to diversify its growth. But this is the second time this year it has decided to continue final-stage trials after dubious Phase 2 data. And several of its other R&D-focused acquisitions are on the risky side.
Drug R&D is a tricky business, and a huge part of it is learning to cut bait on trials that are unlikely to succeed. Allergan has failed to master that part of the equation. 
To contact the editor responsible for this story:
Mark Gongloff at mgongloff1@bloomberg.net
Before it's here, it's on the Bloomberg Terminal.
LEARN MORE