Newfangled Technology
Apple's Watch Should Get Swiss Makers Ticking
Swatch and Richemont need to take the newfangled timepieces seriously.
By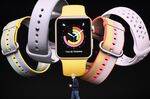 APPLE INC
-0.80
At Closing, January 19th
SWATCH GROUP AG/THE-BR
-0.50
As of 8:12 AM EST
The Swiss watch recovery just keeps on ticking.
Swiss watch exports rose 4.2 percent in August, a slight acceleration from July.
But there's a warning contained in the otherwise upbeat data, particularly for the makers of cheaper timepieces.
August's growth was driven entirely by the more expensive models: those with an export price starting at 3,000 Swiss francs ($3,085).
Demand at lower price points continued to decline, and it is likely that much of this is due to the rise of the smartwatch.
This is bad news for Swatch Group AG, whose cheaper products compete directly with the new type of timepiece. About one-third of its sales are from products that cost less than 1,000 francs, according to Exane BNP Paribas.
It has some high-end brands, such as Breguet and Harry Winston, but it still has significant exposure to the lower end. Swatch said last week that its higher-end brands were experiencing the best sales growth.
Richemont, on the other hand, with brands such as Jaeger-LeCoultre and IWC, is more exposed to the high end. While that's been a problem during the luxury downturn, it offers more protection against the rise of the smartwatch.
Gadfly has been arguing since January 2016 that Swiss watchmakers should not ignore -- let alone mock -- the new breed of timepieces.
At least some manufacturers have recognized their appeal to consumers and are dabbling in smartwatches themselves. Digital technology is making its way into Richemont's Montblanc, LVMH's Tag Heuer and Swatch's Tissot.
While Apple Inc.'s watch might not have been the instant hit as, say, the iPhone, the smartwatch is here to stay. If Swiss watchmakers are really going to capture the attention of the golden millennial, they need to start their digital timers.
(
Corrects sixth paragraph to show that one-third of Swatch's sales are from products that cost less than 1,000 francs.
)
To contact the editor responsible for this story:
Jennifer Ryan at jryan13@bloomberg.net
Before it's here, it's on the Bloomberg Terminal.
LEARN MORE