Breakup value
Is Kingfisher Screwed?
Kingfisher wouldn't be easy to break up, but there's hidden value there.
By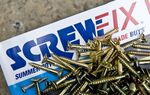 KINGFISHER PLC
-5.90
At Closing, March 19th
MORGAN STANLEY
-0.68
As of 3:23 PM EDT
Kingfisher Plc's home makeover is starting to look like a botch job, with or without the 8 percent bump in its share price on Wednesday morning.
Veronique Laury, named as chief executive of the home improvement retailer three years ago, has an ambitious plan to hike profit by 500 million pounds a year by 2021, primarily by selling more of the same ranges across its disparate store chains.
There are bright spots. Cost control was better than expected in the first half of the year, and the company is buying 16 percent of its product ranges centrally, a big increase from 4 percent a year ago. But the overhaul has led to sales disruption, which means Kingfisher will miss some of its early targets for centralized buying. 
Meanwhile, the threats to its British B&Q stores persist. Discounters like B&M European Value Retail SA are muscling in on areas such as garden furniture. With doubts about the Laury strategy, a breakup is starting to look more than theoretical.
In particular, with the trade-focused Screwfix stores doing better than the rest of the empire, there may be some merit to spinning it off. Tony Shiret, an analyst at Whitman Howard, estimates that this mainstay for British builders could make about 200 million pounds ($271 million) of earnings before interest and tax this year. With Kingfisher having no debt, and taxing earnings at 20 percent, that would mean post-tax earnings of about 160 million pounds.
Putting those earnings on the same multiple as Howden Joinery Group Plc, a trade supplier of kitchens -- about 14 times -- would value Screwfix at about 2.2 billion pounds.
Kingfisher also had 3.4 billion pounds of freehold property, and net cash of 650 million pounds on July 31, according to the company.
Analyst Geoff Ruddell at Morgan Stanley estimates that Kingfisher's overall breakup value could be 9.6 billion pounds, an almost 30 percent premium to its 6.9 billion-pound market capitalization. The Morgan Stanley estimate equates to 425 pence a share, well ahead of Kingfisher's share price of 315 pence per share, even when taking into account that jump on Wednesday after first-half earnings and cost savings were slightly better than expected.
Private equity could be interested in Screwfix. Although there's probably limited scope for U.K. expansion, a financial buyer could do more internationally. And with no borrowings, the business could be loaded with more debt to boost returns.
The problem with a breakup is what happens to the "rump" DIY shops in the U.K. and France. There may be limited appetite for mature home improvement retailers, with fewer consumers undertaking home improvement projects in more straitened times.
There might also be tax costs and a greater penalty from operating the divisions separately than anticipated. Morgan Stanley assumes 500 million pounds of lost value from these "dis-synergies" but it might be worse. There would be an inevitable reduction in buying power, particularly after Laury spent the last few years bringing the different chains closer together.
But Kingfisher's share price is still down 14 percent since May. And that's before any real pain from a consumer slowdown. Australia's Bunnings, which bought rival Homebase last year, will surely get its act together at some point too.
Breaking up is hard to do, and Laury says the power of the group is together. But if she can't keep her project on track, dis-assembly will be a tempting alternative.
To contact the editor responsible for this story:
James Boxell at jboxell@bloomberg.net
Before it's here, it's on the Bloomberg Terminal.
LEARN MORE