Home Run
Chinese Developers' Fat of the Land
Forget earnings, it's more about acreage amassed.
By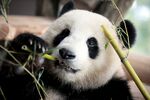 CHINA RESOURCES LAND LTD
-0.35
At Closing, March 19th
CHINA EVERGRANDE GROUP
-0.70
At Closing, March 19th
There's a new valuation methodology in town for Chinese developers: Buy ones with the biggest land banks.
While state-backed China Overseas Land & Investment Ltd. and China Resources Land Ltd. have long been hailed as blue chip, it's competitors such as China Evergrande Group, Country Garden Holdings Co. and Sunac China Holdings Ltd. that have shined this year. Combined, the trio have a market value north of $170 billion. Evergrande started the year at $23 billion.
Investment banks are racing to revise their estimates. Citigroup Inc.'s Oscar Choi, the top-ranked analyst by Institutional Investor, raised his sector price target by 13 percent this week, saying he sees industry consolidation. Choi predicts that in three years, China's top 10 developers will double their share of the market to 40 percent. By 2019, Evergrande, Country Garden and Sunac will be the top three revenue generators, overtaking China Overseas Land.
Consolidation is a polite way to talk about the nub of the issue here. The real secret sauce behind those firms' meteoric rise is land. A Gadfly analysis of 18 Hong Kong-listed Chinese developers shows that expanding land banks account for 80 percent of the rise in share prices, a closer correlation than with earnings growth.
While home prices in China are rising at a slower pace, the cost of residential land keeps spiraling.
Evergrande, Country Garden and Sunac were smart. By hoarding sites, they can not only support future growth but also benefit from price appreciation. The three now own roughly half of the total territory controlled by the 18 developers. By comparison, the reserves held by China Overseas Land and China Resources Land haven't moved much, and their share-price gains have lagged.
There are reasons to believe residential land prices will remain elevated. With local governments in China able to access the municipal bond market for funds, they're less likely to sell off large swathes of territory.
Ironically, it's now the state-backed property companies most vulnerable to attacks from short sellers. China Resources Land still trades at 9.9 times forward earnings, in line with Evergrande, even though its profit tumbled in the first half.
How the lay of the land has changed.
To contact the editor responsible for this story:
Katrina Nicholas at knicholas2@bloomberg.net
Before it's here, it's on the Bloomberg Terminal.
LEARN MORE