Slash and Burn
Alibaba Fails to Deliver Its Best
It seems investors are starting to question whether Best Inc. can reverse widening losses.
By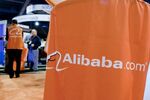 ALIBABA GROUP HOLDING-SP ADR
-6.05
As of 3:21 PM EDT
ZTO EXPRESS CAYMAN INC-ADR
-0.04
As of 3:21 PM EDT
It looks like Alibaba Group Holding Ltd.'s golden touch may be fading.
Best Inc., a Chinese logistics provider backed by Alibaba, is slashing its proposed U.S. share sale by as much as half, according to IFR.
A weak response from investors forced the Hangzhou-based firm to trim its indicative price range to as low as $10 to $11 per American depositary share, and sell around 45 million units, people familiar with the matter later told Bloomberg News. As recently as Sept. 6, Best was looking to sell 62.1 million ADS at $13 to $15 a piece.
Alibaba, which Bloomberg reported Tuesday is planning to inject about $100 million into Best's downsized IPO, is both Best's biggest shareholder and its largest client. A U.S. listing was seen as a way for investors to tap into Alibaba's growth potential, and for Best to leverage those connections to raise money.
But a decline in the stock of fellow Chinese logistics group ZTO Express Cayman Inc., itself heavily reliant on Alibaba, seems to have spooked would-be shareholders. ZTO's New York-traded shares have tumbled 24 percent since the company's Oct. 26 initial public offering.
While ZTO still attracts an overwhelming buy rating from sell-side analysts and its bottom line beat estimates for the June quarter, revenue for that period missed by 1.8 percent, according to data compiled by Bloomberg. More worrying was ZTO's third-quarter revenue outlook, which fell short.
All this was known when bankers gave an earlier outline of the share sale. This latest revision would seem to indicate that investors believe Best may struggle to reverse three years of widening losses.
Alibaba's might in e-commerce in China is undisputed, and investors who have ridden the almost threefold increase in the stock since its September 2014 IPO have been richly rewarded. But its ability to weave magic where ever it goes? That may be waning.
To contact the editor responsible for this story:
Katrina Nicholas at knicholas2@bloomberg.net
Before it's here, it's on the Bloomberg Terminal.
LEARN MORE