It shouldn't come as a surprise, given the geopolitical tensions bubbling up around North Korea, that missile systems are becoming hot commodities. And it's what makes Northrop Grumman Corp.'s pricey deal for Orbital ATK worth it.
The defense contractor agreed on Monday to acquire Orbital for about $9.2 billion including debt, or $134.50 a share in cash. That handily blows past Orbital's previous record, reached only just this past August. At about 15 times Orbital's trailing 12-month Ebitda, the multiple also exceeds most recent aerospace and defense transactions of its size. (The company was formed through a merger of Orbital Sciences and Alliant Techsystems' rocket propulsion and missile systems in 2014.)  
Buying at the top isn't usually a great M&A strategy. And the cost savings involved are somewhat light at about $150 million by 2020, some of which are likely to be shared with the U.S. Defense Department. But this is one case where the revenue opportunities for the combined company are pretty clear and likely to win over investors.
Orbital's stock has skyrocketed (sorry, had to) because the outlook for military products is perking up. With Republicans in charge of Congress and North Korea engaging in near daily saber rattling with a U.S. president who's more than willing to fire back, there might finally be a meaningful pickup in defense spending after years of sequestration.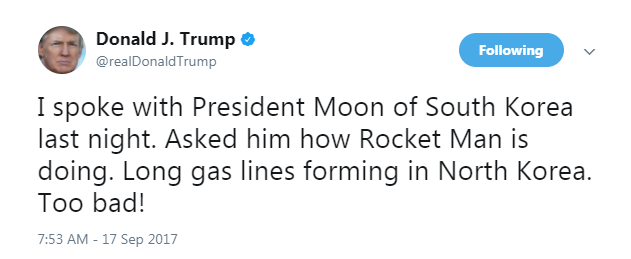 Acquiring Orbital better positions Northrop Grumman to meet U.S. demands, particularly as it relates to plans to modernize the country's arsenal of intercontinental ballistic missiles and defense systems. Orbital has designed propulsion systems on Minuteman III missiles in the past. Its development of smart ammunitions, meanwhile, will complement the electronics focus that's given Northrop Grumman one of the highest profit margins among top defense contractors.
The deal will make one of the top five defense contractors a bit bigger, but as it's not a merger among the leaders and creates the opportunity for ultimately stronger missile and defense offerings, the purchase would seem to be one that regulators could get on board with.  
And, hey, it could be worse. Even with Northrop Grumman paying a premium over Orbital's record price, it's still offering a cheaper multiple than what United Technologies Corp. is paying for Rockwell Collins Inc. And the revenue benefits there are much murkier.  
This column does not necessarily reflect the opinion of Bloomberg LP and its owners.
To contact the editor responsible for this story:
Beth Williams at bewilliams@bloomberg.net