Labor Day
United Technologies' Aerospace Megadeal Means Heavy Lifting
The blockbuster aerospace transaction needs a lot go right.
By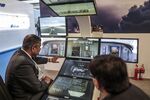 United Technologies Corp. and Rockwell Collins Inc. sure know how to put the "Labor" in Labor Day Weekend. But the hardest work is yet to come. 
Company executives and bankers seemingly spent the unofficial-end-of-summer holiday in conference rooms tying up the details on a blockbuster aerospace deal that had been the subject of speculation for weeks. On Monday night, United Technologies announced the $30 billion takeover of Rockwell Collins.
Some analysts had predicted that a breakup of United Technologies' aerospace-focused businesses and its Otis elevator and climate-controls divisions might be announced concurrently, but that's not an immediate part of CEO Greg Hayes's plan. I had endorsed such a split, which would have eased the sticker shock on a near-record valuation. But let's look at the deal as is.
The idea behind the transaction is that with more revenue heft, the companies will be in a better position to weather Boeing Co. and Airbus SE's efforts to lower supplier costs and develop their own components. United Technologies and Rockwell Collins also talked up their strengthened ability to meet customers' demands for digitally enhanced aircraft. That sounds good in theory and isn't without logic, but this is also an expensive and complex gamble with more opportunities to go wrong than right.
United Technologies does have experience integrating pricey takeovers, as Hayes reminds us in the press release. It agreed to buy Goodrich Corp., a maker of wheels and brakes, in 2011 just two months after the target reached an all-time high. 1  It was able to somewhat justify the lofty $18 billlion price tag by reaping more cost synergies than initially targeted ($600 million in total) and using the additional Goodrich products to win a bigger piece of what was then a record aerospace order backlog. But repeating that success with Rockwell Collins will be more difficult. 
United Technologies is aiming for $500 million-plus of synergies, a surprisingly high figure considering its lack of overlap with Rockwell Collins and the fact that its target already has better margins than it does. 2 The ultimate sales pitch for the deal rests more on this theory that United Technologies-Rockwell Collins (and the B/E Aerospace seat-and-interiors business the latter only recently acquired  for $8.3 billion) will all be stronger together than apart. The companies don't quantify that opportunity ... because they can't.
This revenue-boosting deal logic sort of worked with Goodrich, and I was optimistic Rockwell Collins could get more out of B/E Aerospace with its vision for arming everything from seats to flight controls with data-gathering capabilities to enhance the combined company's competitive position. But there are limits to the benefits of scale. Facing pressure from investors to improve cash flow and profit, Boeing in particular has been dogged about lowering costs and finding alternatives to traditional suppliers. 3 That won't change if United Technologies, already the biggest plane-parts supplier, gets bigger.
In fact, a few delivery delays or supply-chain foul-ups sparked by the merger integration would give Boeing and Airbus more reason to tighten the screws. And there will be plenty of opportunities for such issues to arise. Once you start layering two acquisitions on top of each other (and maybe even a possible breakup down the road), everything gets more difficult.
That's what makes the timing of this deal a little confusing. Sure, adding B/E Aerospace interiors to its repertoire will diversify United Technologies' customer base, with many orders for seats and other interiors coming from airlines as opposed to manufacturers. But let's put it this way, if United Technologies had done this deal a year ago, I don't think any investors would be saying, "The avionics are nice, but what about seats?!?" United Technologies could have saved itself billions of dollars and more than $5 billion of debt by striking sooner.
Let's not forget that United Technologies is still grappling with glitches and supply-chain issues that have set it up for a very steep climb to meet its delivery goals for its new jet engine. Airbus has already expressed a concern about the distraction that might result from a mega-deal. United Technologies shareholders should be worried too.
It's not clear whether that number includes or is in addition to the $200 million in cost savings Rockwell Collins was already targeting out of the B/E Aerospace purchase.
To contact the editor responsible for this story:
Beth Williams at bewilliams@bloomberg.net
Before it's here, it's on the Bloomberg Terminal.
LEARN MORE