Call Waiting
Activists Can Still Apply at United Technologies
Questions linger about the timing of its big aerospace deal and what this means for its core business.
By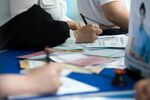 United Technologies Corp.'s purchase of avionics maker Rockwell Collins Inc. has gone from rumor to reality, but the end result won't drop the industrial giant from activists' radar.
The company announced late Monday that it would buy Rockwell Collins for $30 billion including debt. It's an expensive bet with a questionable payoff (read more here). When talk of an activist investor at United Technologies bubbled up last month, I wasn't surprised. That's still speculation, but the deal announcement and accompanying conference call still left many questions about what sort of hidden issues might be lurking in United Technologies' core business to make it spring for this megadeal now.
CEO Greg Hayes didn't really have great answers when questioned on the timing. Rockwell Collins completed its own $8.6 billion takeover of B/E Aerospace in April and has only gotten more expensive relative to United Technologies' own valuation. Hayes joked that when he joined Sundstrand in 1989 (the aerospace-systems company was ultimately acquired by United Technologies), one of its top takeover picks was Rockwell Collins. He chalked up the ultimate realization of the deal to "serendipity." Ok.  
Timing is everything in M&A. It may have been that with Rockwell Collins's stock at a record and Boeing Co. and Airbus SE encroaching on suppliers' turf with a push into component manufacturing and after-market services, CEO Kelly Ortberg was more willing to listen to pitches. But was United Technologies in the best position to take on this gamble? It had plenty to work on without integrating a big deal.
Margins at its elevator business have been pinched as it recaptures market share in China; it's trying to re-energize its climate-controls business with new products, and most significantly, it's seeking to prove the $10 billion development cost for its new jet engine was money well spent as it tries to overcome roll-out foul-ups that have undermined its delivery goals. For what it's worth, United Technologies affirmed its 2017 organic growth and earnings targets, but what investors are really concerned about is 2018 and beyond.
Hayes considers himself United Technologies' own activist and pledged to consider all strategic options for the company -- but only after the Rockwell Collins deal has been integrated and the synergies start to come through (it's targeting more than $500 million in cost savings by year four.) So that means the speculated breakup that would put United Technologies' aerospace divisions in one business and its climate-controls and elevator units in another is several years away, if it happens at all.
Hayes's logic for postponing consideration of a split is that United Technologies needs cash flow from all its operations to pay down the substantial amount of debt it's taking on for the Rockwell Collins deal. It also has to account for the increased costs that would come with duplicating back-office functions now shared across the company. I can understand that to a degree. Certainly adding a breakup on top of what is essentially a double integration of both B/E Aerospace and Rockwell Collins would have made this complicated deal even messier. But there are also risks to waiting.
For one, this means that United Technologies is potentially set up for a prolonged period of disruption rather than just ripping off the Band-Aid. It creates event risk from a credit perspective. And as we've seen with Eaton Corp. and Johnson Controls International Plc, investors can see through transformations that go only half-way, and they aren't willing to award premium valuations on the promise of a potential breakup down the road.

The dealmaking is done, but the drama isn't.


To contact the editor responsible for this story:
Beth Williams at bewilliams@bloomberg.net
Before it's here, it's on the Bloomberg Terminal.
LEARN MORE