Nisa Try
Sainsbury's Lucky Escape
The benefits of buying Nisa Retail were never worth the risk.
By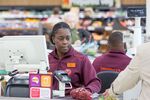 It's always heartbreaking to see the apple of your eye run off with another suitor.
J Sainsbury Plc appears to have lost out on the chance to acquire Nisa Retail Ltd. after the wholesaler began exclusive talks with rival Co-Operative Group. It's a lucky escape for the supermarket chain.
With M&A sweeping the industry, Britain's big grocers have been busy bulking up. Nisa would have added some useful buying scale, especially after Tesco Plc's 3.5 billion-pound ($4.5 billion) purchase of Booker Group Plc. With that deal turning the business of supplying Britain's smaller retailers into a key battleground, Sainsbury would have got a piece of the action.
But the benefits just were never worth the risk.
Sainsbury's ardor had already cooled somewhat: the two sides suspended talks a couple of weeks ago, according to the Guardian. That came after rival Wm Morrison Supermarkets Plc won Nisa's contract to supply convenience-store operator McColl's Retail Group Plc, a deal that accounted for a third of Nisa's 1.25 billion pounds of annual sales.
What's more, the deal, even at a tiny 130 million pounds, might have created messy antitrust concerns. It could also have distracted Sainsbury from the job of integrating Argos. Despite some skepticism about the 1.3 billion-pound purchase, not least from me, the supermarket seems to be making a pretty good fist of it. Just this week, the company said it would start offering the Argos click-and-collect service from its convenience stores.
Sainsbury shouldn't be distracted from defending its core supermarket business either. With no let-up in the German discounters' assault on the U.K., and with Amazon.com Inc. emboldened by its purchase of Whole Foods Market, it already has plenty on its plate.

This is one break-up Sainsbury ought to get over easily.
To contact the editor responsible for this story:
Edward Evans at eevans3@bloomberg.net
Before it's here, it's on the Bloomberg Terminal.
LEARN MORE