No Wave
Cool Your Hopes for a Post-Kite Cancer-Deal Boom
Big pharma M&A doesn't tend to lead to more, and the pickings are slim.
By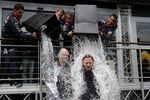 Almost as soon as Gilead Sciences Inc.'s deal for Kite Pharma was Inc. announced Monday, investors moved on to asking what's next.
Shares of other companies that focus on cell therapies -- a new type of cancer treatment that modifies human immune cells to target cancers -- soared alongside Kite this week on speculation of more deals to come. Shares in Juno Therapeutics Inc., possibly the next in line for an approval for one of these medicines after Kite and Novartis AG, rose 20 percent Tuesday.
But while sentiment and momentum have an outsize impact on biotech shares, data and logic don't quite support the notion that a buyout bonanza is in store.  
The past five years of biopharma deal spending don't provide any consistent sense that big deals beget more big deals. Reality looks to be pretty random.  
It's a somewhat crude analysis, but Bloomberg data show more M&A has been announced in the 90 days preceding the year's biggest merger than in the following 90 days in all but one year since 2012. While it's possible that a period of heightened merger activity helped spark even bigger deals, my bet is that there isn't any such effect consistently. It's equally possible that large deals have a cooling effect on M&A activity.
Big deals can boost the share prices of firms not involved in them, particularly those working in the same disease area or on similar treatments, as we're seeing now in cell therapy. There is a certain amount of groupthink in pharma, and in this case there's a perception that Gilead's deal validates an uncertain technology. Firms may worry good assets will be snatched up if they don't act.
But with many would-be acquirers already complaining about high asset prices, such FOMO feelings may not outweigh distaste at picking through Gilead's discard pile and paying extra for the privilege.
And after Kite, the targets get even riskier. Juno has had safety issues, and other competitors are still in earlier stages of R&D.
Outside of cell therapy, there's not a bumper crop of late-stage or recently approved cancer drugs on the auction block. Many available firms have warts, have seen share prices run up substantially, or both.
Incyte Corp. would cost more than double what Kite did, and a huge amount of its value is tied up in a highly uncertain medicine. Tesaro Inc. and Clovis Oncology Inc. both have the same type of drug -- as does AstraZeneca PLC -- and such competition saps potential upside from acquiring them. Puma Biotechnology Inc.'s breast-cancer medicine has side-effect issues and uncertain commercial appeal. 
The field of acquirers may be thin, too. While Gilead says it's interested in more deals, the $12 billion it is spending on Kite is a significant chunk of change. And it will be launching an extremely complicated medicine at about the same time the Kite deal is expected to close. That may delay any further forays into the market. Another big potential dealmaker, Johnson & Johnson, just spent $30 billion on Actelion.
On top of that -- while it's not the best reason to delay a needed deal -- ongoing uncertainty over tax reform and a possible repatriation holiday will likely put a damper on activity, too. 
As tempting as it is to see the Kite deal as a sign of more windfalls to come, investors should prepare for the more likely reality that it will stand alone for some time. 
To contact the editor responsible for this story:
Mark Gongloff at mgongloff1@bloomberg.net
Before it's here, it's on the Bloomberg Terminal.
LEARN MORE