Intellectual property
Leveraged Buyout Alchemy?
CPA delivered a stellar return for Cinven. Repeating that will be tricky.
By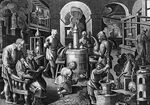 British private equity firm Cinven appeared to have got carried away when it splashed out almost 1 billion pounds ($1.3 billion) to buy a little-known patent renewal business in 2012.
Tuesday's 2.4 billion-pound sale of that business to Los Angeles-based Leonard Green & Partners makes the original deal look like a steal.
There were some obvious attractions to CPA Global five-and-a-half years ago. The business of renewing patents has predictable revenue streams that can be easily borrowed against. CPA also had multiple shareholders, among them London-based Intermediate Capital Group Plc, and looked like it might benefit from one focused pilot.
With CPA's customers reasonably inert, Cinven had a captive audience for selling other patent management services. It added more with acquisitions around the world funded by additional CPA debt. Organic Ebitda growth has been just over 10 percent annually. Add the acquisitions and Ebitda has roughly doubled since the original deal. Capital markets improved too, enabling Cinven to recoup roughly one-third of its investment through a jumbo dividend in 2013. 
Meanwhile, CPA started to look more like a software business -- something that has helped its valuation. While CPA was acquired for about 13 times Ebitda, it's being sold for more than 15 times. Markets may be stronger now than they were in 2012, but buyout firms generally can't bank on selling businesses at multiples higher than they paid in the first place. The result is a near 30 percent internal rate of return.
Cinven used this approach -- add technology, cross-sell it to existing customers, push into new markets -- with counterpart BC Partners in the leverage buyout of airline booking company Amadeus IT Group SA, which it took public in 2010.
Can Leonard Green repeat the trick? CPA is still a small company and it's easy to believe that demand for intellectual property IT is set to increase. There are also exit routes through an IPO or a sale to publishers like Relx Plc or Wolters Kluwer NV -- even if private equity balks at another buyout.
But Leonard Green is unlikely to see financing conditions become more generous during its ownership, as Cinven did. And the British firm has doubtless picked the low-hanging fruit. Future acquisitions will be dearer too. If the new owner comes close to doubling the scale of the business again in five years, that would be a much bigger achievement.
To contact the editor responsible for this story:
Edward Evans at eevans3@bloomberg.net
Before it's here, it's on the Bloomberg Terminal.
LEARN MORE