Compulsive Viewing
Murdoch Rules Run in the Family
The potential takeover of an Australian broadcaster follows a playbook the Murdochs have used for decades.
By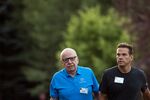 Over six decades in the heavily regulated media industry, Rupert Murdoch has shown a Houdini-like ability to wriggle out of rules that bind less formidable players.
The classic playbook is to buy a publication or broadcast station in so much trouble that the acquisition is seen more as an act of charity than ambition. 1  That tactic is made easier by governments' willingness to look the other way rather than attract the enmity of Murdoch's titles. Then, use innovative content and a position in a concentrated market to restore the outlet to health, and watch the dollars roll in.
These Murdoch rules seem to run in the family, judging by Australian regulators' decision Thursday to allow his son Lachlan Murdoch's potential joint bid, with local television magnate Bruce Gordon, for bankrupt free-to-air broadcaster Ten Network Holdings Ltd.
Ten, the last-ranked of Australia's three commercial free-to-air broadcasters, was put into administration two months ago after a six-year decline that kicked into high gear when Lachlan himself was CEO and then chairman between 2011 and 2014. Lachlan has remained involved ever since, both as a provider of television shows in his role as co-chairman of Twenty-First Century Fox Inc., and latterly, with Gordon, as a guarantor of Ten's debt.
As the Australian Financial Review has reported in detail, Lachlan and News Corp.'s multiple roles in Ten's collapse -- as both suppliers, shareholders, creditors, and sales agents 2  -- mean the whole process has been riddled with conflicts. On the eve of Ten's sudden demise many, including Gadfly, predicted it would scrape through thanks to discounted programming deals from its major content providers. Such a deal was forthcoming from CBS Corp. but not Twenty-First Century Fox, the AFR reported; without that discount, Ten lost its slim chance of refinancing its credit facilities free of Lachlan and Gordon's guarantees, and was forced into bankruptcy.
That sequence of events is remarkable enough -- but the response of antitrust regulators to the second act is almost more extraordinary. With Ten bankrupt, the younger Murdoch and Gordon approached the Australian Competition & Consumer Commission to see how they'd view a takeover. (No public offer has been made, to date.)
On paper, the chances of this getting through should have been remote. Five years earlier, when the owner of the largest 3 free-to-air Seven Network had looked at buying a business with a stake in News Corp.'s local pay-television brands, it was blocked on the basis that having a shareholding in both free-to-air and pay-TV would give Seven an unfair advantage in bidding for live sports rights.
The Murdoch-Gordon bid for Ten raises the same issues, but on this occasion the regulator decided to stand down. That might be justified on the grounds that the rise of streaming services like Netflix Inc. and multi-channel digital stations have changed the media landscape since 2012 -- though they've yet to show much interest in taking on the traditional networks in the sports-rights market. In its statement on the issue, the Commission did little to address the apparent double standard:
The ACCC also considered the effect on competition in the acquisition of sports rights and other types of content. The parties will continue to face competition from the remaining free-to-air networks as well as streaming services for the acquisition of content.
Ten is still the rank underdog on Australia's television screens, which in any case are dwindling in importance with the inexorable rise of digital media. There's a question mark, too, over whether Murdoch would even want it: Media law changes that would have allowed him to buy the business without selling his radio assets are currently stalled in parliament.
Still, the number of times that Murdoch rules have prevailed over the better judgment of regulators to get to this point in Ten's story is an example of the family talent for capturing media prizes that no other bidder could aim at.
Ten does have something unique and potentially valuable, in the form of one of Australia's three metropolitan free-to-air broadcasting licenses. With the cheaper content that wasn't forthcoming from Twenty-First Century Fox before its bankruptcy, Ten might be able to start rebuilding its miserable audience share. Add a generous dollop of cash from Murdoch and Gordon, and it would even stand a chance of winning some of those sporting rights away from larger rivals Seven and Nine Entertainment Co.
That may seem an unlikely series of events -- but it's no less likely than the sequence that led to the 21-year-old proprietor of Adelaide's second-biggest newspaper becoming the most powerful global media baron of his era.
Regulators and governments may come and go; Murdoch rules live on.
Bloomberg LP competes with News Corp.-owned Dow Jones Newswires in the market for financial information.
The Sun was a struggling, loss-making startup before Murdoch swept in to buy it in 1969 and set about turning it into the U.K.'s best-selling newspaper.

When Murdoch bought the U.K.'s then-paper of record The Times and its sister paper the Sunday Times in 1981, the deal escaped referral to the country's antitrust authorities on the heavily contested basis that the titles were just months away from folding.

When he bought the television stations and loss-making Fox studios that would form the heart of 21st Century Fox Inc. in 1985, rules around ownership of newspapers and television stations in the same cities required him to divest New York's WNEW-TV due to his ownership of the New York Post. That never happened; after obtaining a temporary waiver and then selling the Post in 1988, Murdoch bought it back in 1993 accompanied with a permanent waiver of the cross-ownership rules.

In 1987, similar mitigating considerations saw Australia's antitrust commission wave through with conditions his takeover of the Herald & Weekly Times group, laying the foundations of his dominant position in that country's print media. And then in 1990, he evaded rules forbidding owners of national newspapers from holding stakes in satellite television companies in carrying out the merger that created Sky Plc on the basis that the orbiter which broadcast Sky's signal was registered in Luxembourg.

Media network MCN, which is controlled by News Corp.-backed entities, is responsible for selling Ten's advertising inventory; as a result, News Corp. has influence over the booking of almost all of Ten's revenue.
To contact the editor responsible for this story:
Katrina Nicholas at knicholas2@bloomberg.net
Before it's here, it's on the Bloomberg Terminal.
LEARN MORE