Hardly Child's Play
China's Dangerous Game of Pass-the-Parcel
R&F shareholders shouldn't be thrilled their developer is picking up the beleaguered firm's off-cuts.
By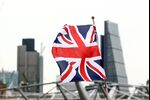 Playing the Good Samaritan should be rewarded. Unless you're the white knight at a Chinese serial acquirer's garage sale, that is.
Guangzhou R&F Properties Co. and C C Land Holdings Ltd. said they had agreed to buy a 470 million-pound ($603 million) land plot in London on Tuesday that Dalian Wanda Group Co. relinquished after coming under scrutiny from Beijing.
The 10-acre Nine Elms Square site, which was to have been redeveloped into luxury homes, isn't the first asset R&F has bought from Wanda. Last month, it struck a 19.9 billion yuan ($3 billion) deal to purchase some of Wanda's hotels. (Another developer, Sunac China Holdings Ltd., is acquiring most of Wanda's tourism and theme-park projects.)
That Wanda, controlled by billionaire Wang Jianlin, needs a helping hand isn't in doubt. It's been singled out by authorities after a spate of debt-fueled acquisitions that spanned cinemas to luxury yacht makers.
The conglomerate's onshore bonds are indicative of the worries around Wanda's ability to service its debt. Three-year 5.3 percent notes sold by Dalian Wanda Commercial Properties Co. in May are yielding 9.4 percent after touching a record 9.5 percent earlier this month. Top-rated similar maturity corporate securities in China yield 4.6 percent.
Investors who participated in Wanda Commercial Properties' $4.4 billion delisting in Hong Kong last year aren't likely to find themselves part of a higher-valued Chinese publicly traded vehicle any time soon, either. (Wanda Hotel Development Co. is alone in outperforming, following news last month that the Hong Kong-listed firm will get the lucrative management rights to some of the group's theme parks and hotels.)
R&F shareholders who sent the developer's stock to the highest since October 2009 on Tuesday should perhaps show a little concern also. Too much exposure to real estate in London at this point is questionable. Luxury home prices in the city have been falling as successive tax increases penalize investors, and Brexit uncertainty has also impacted sales.
R&F could afford to play the long game, if only it wasn't up to its eyeballs in debt.
Moody's Investors Service said in July that it expects the firm's leverage, as measured by revenue to adjusted debt, to inch up toward 50 to 60 percent by next year, from around 42 percent at the end of 2016. R&F's portion of non-property-development revenue, meanwhile, will rise to about 15 percent in 2018, from 8 percent in 2016.
Morgan Stanley on Wednesday upgraded its recommendation on the company's Hong Kong shares to equal weight from underweight, citing a large land bank that should help it benefit from rising home prices in China. The financial institution held off on a buy call, however, because of R&F's high gearing.
R&F could argue that it's riding the crest of China's domestic tourism boom by investing in Wanda's mainland hotels. Even though many are in smaller cities where demand is less stable, more Chinese are holidaying at home than ever before.
But splurging on property in the U.K. is another matter. Rather than engaging in a game of pass-the-parcel with Wanda, R&F should focus on its core business and on paying down some debt. Shareholders won't be impressed if it's the one left holding the hot potato.
To contact the editor responsible for this story:
Katrina Nicholas at knicholas2@bloomberg.net
Before it's here, it's on the Bloomberg Terminal.
LEARN MORE