New Nadir
Brexit Gravity Pulls Down Pound
Sterling's stuck in a negative feedback loop.
By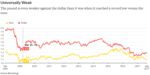 The pound took another beating on the foreign-exchange market on Wednesday, dropping to its lowest level against the euro since 2009. Parity against the common currency beckons.
The trigger for the latest leg lower was a purchasing managers' index survey showing manufacturing in the euro zone beat expectations in August, expanding from the prior month rather than declining as economists had anticipated.
While the next PMI survey for the U.K. isn't scheduled for release until Sept. 1, the Brexit-induced gap isn't likely to close any time soon.
Moreover, there's a key difference between the pound's current travails and what was happening on the market when it touched its record low against the euro at the end of 2008. This time, sterling is worth about $1.28 against the greenback, down from about $1.40 at the time of its nadir against the common currency.
That double whammy leaves the pound vulnerable to posting a new record low on a trade-weighted basis against the currencies of its biggest trading partners.
There's a distinct possibility that sterling's weakness will surpass even the dark days of last year in the months after the U.K.'s shock decision to quit the European Union.
While that in theory should help British exporters, the textbooks say it will also boost inflation -- further crimping cash-strapped Brits at a time when wage growth is lackluster. For now at least, the pound remains trapped in a negative-feedback cycle.
(
Corrects data label showing today's low in first chart.
)
To contact the editor responsible for this story:
Jennifer Ryan at jryan13@bloomberg.net
Before it's here, it's on the Bloomberg Terminal.
LEARN MORE