That Went Well
Subprime Lender Self-Disrupts
Provident Financial's woes may spell a slowdown in lending.
By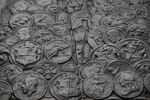 Lending money to poor people is shockingly profitable. Yet the temptation to wring even more money out of doorstep lending led Provident Financial Plc to revamp its business in the name of technology and efficiency.
The result: a wrecked share price, the CEO's exit, regulatory scrutiny and a balance sheet that may need propping up. The blessing in disguise may be a slowdown in subprime lending.
Provident Financial shares cratered by as much as 64 percent on Tuesday after the company warned it expects to report a full-year loss, scrapped its dividend and CEO Peter Crook stepped down. With its doorstep-lending business falling far short of its targets, the company publicly apologised to analysts.
On top of all that, the Financial Conduct Authority is investigating Provident's Vanquis Bank unit over its payment-protection product.
All sides of Provident's business appear to be hamstrung in a U.K. consumer credit market that already looked stretched. Investors are probably pricing in the risk that the company will have to issue new shares to prop up its balance sheet.
The root of the problem lies not so much in borrowers failing to repay their loans as in Provident's decision to replace about 4,500 self-employed door-to-door agents with about half the number of full-time, iPad-carrying "customer experience managers." It turned out they weren't so good at collecting the money.
The warning signs were there as early as June, when a profit warning highlighted problems of motivation and disruption. Tuesday's update shows that, even now that the new model is fully in place, not much has gone according to plan. What was supposed to be a cheaper, smoother model has become painfully expensive and clearly inefficient.
What's questionable is why this iPad revolution needed to happen at all. For the last five years, Provident's return on common equity has been between 30 percent and 40 percent, according to Bloomberg data, with a cost-to-income ratio low enough to make even Lloyds Banking Group Plc blush. Yet the bank still presented its IT overhaul in April as a way to cut "high management costs" and ramp up scrutiny and transparency. An increasingly twitchy regulator probably also contributed. The new model would put "clear blue water" between Provident and the rest of the market, the firm said. It has -- just not in the way the firm intended.
The good news is that this doesn't look like a sign of a 2008 crisis in the making. It's a company-specific situation, as Bloomberg Intelligence's Jonathan Tyce points out.
The blessing in disguise may be a braking on the market overall as Provident wrestles with its problems. U.K. consumer credit is at $260 billion, close to its all-time high in September 2008, which has regulators and investors on edge. It's hard to see Provident deliver growth when it's tangled in operational problems and regulatory scrutiny.
This looks like self-disruption, not self-destruction -- and a relief to those who remember the last time a subprime lender ran into trouble.
To contact the editor responsible for this story:
Edward Evans at eevans3@bloomberg.net
Before it's here, it's on the Bloomberg Terminal.
LEARN MORE