Yield Yearning
China SOEs Need More Red Packets
More state-owned firms ought to follow China Mobile's lead and increase dividends.
By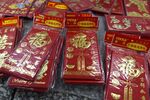 CHINA MOBILE LTD
-0.85
At Closing, June 21st
Investors should watch for Chinese state-owned enterprises bearing red envelopes this earnings season.
Shares of China Mobile Ltd. bucked the broader market trend Friday to rise as much as 1.7 percent after the telecom operator said Thursday it would pay its first special dividend since 2008 to mark the 20th anniversary of its listing.
That's nice, but not so surprising.
Earlier this year the company's shares spiked after fellow SOE China Shenhua Energy Co. rewarded investors with a special payout. When China Mobile announced its earnings a few days later, it kept mum on the dividend front, sending its stock down 3.4 percent. This year, China Mobile has underperformed Hong Kong's Hang Seng Index by 17 percentage points.
Back in March, China's State‑Owned Assets Supervision and Administration Commission said publicly traded government firms needed to boost their dividend payouts. The reasoning is simple: China is pushing SOE reform and that requires funds. If state enterprises offer higher dividends, they become more attractive to foreign institutional investors.
Ensuring there are more dividend plays in China's stock market should help curb the nation's speculative day-trading culture as well. Currently, the Shanghai Composite Index and the MSCI China Index, which tracks firms listed outside of the mainland, offer dividend yields of 2 percent and 1.9 percent respectively.
For China Mobile, dividends make perfect sense.
Like other major telecom operators in the region, China Mobile's revenue growth is slowing. It was sitting on $69 billion of cash at the end of June and spits out 5 percent free cash flow. So why does it only pay a dividend yield of 3.3 percent? Regional peers Telstra Corp. and Singapore Telecommunications Ltd. have payouts of 10.7 percent and 4.6 percent.
Making it a "special" payment should rankle also. China Mobile can easily afford a more robust, regular dividend regime. 
Beijing has a point, too. The SOE-dominated Hang Seng China Enterprises Index offers an 11.4 percent earnings yield but a dividend yield of only 3.8 percent. Those companies aren't that indebted, either. On average, the firms can pay off their net debt with 1.6 years of pretax profit.
China's state firms are notoriously slow moving. But they should realize this earnings season is the best time to comply with regulators' reform directives, not to mention make company bosses look good on the eve of President Xi Jinping's cabinet reshuffle at the Communist Party's approaching five-yearly congress.
So far, only 12 percent of companies in the Hang Seng Composite Index have reported earnings. There must be more of those red envelopes out there.
To contact the editor responsible for this story:
Katrina Nicholas at knicholas2@bloomberg.net
Before it's here, it's on the Bloomberg Terminal.
LEARN MORE