Spinning Wheels
SMIC's Canary Chip Warning
In forecasting weak revenue and margins, the Chinese foundry is signaling more of its factories will lie idle in coming quarters.
By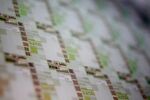 Shares of Semiconductor Manufacturing International Corp. dropped the most in almost two years on Wednesday after the Chinese chip foundry unveiled second-quarter net income that fell short of estimates by more than 20 percent, a third consecutive miss. Sales also disappointed, but not by as much.
Shanghai-based SMIC blamed some of the earnings weakness on higher costs involved in getting a new factory up and running. 
What's probably got traders worried, though, is falling gross margins and capacity utilization for the three months through June 30, along with weakness in the current quarter.
Margins and utilization go hand in hand because much of the cost of a chip factory is depreciation. So when just 85.7 percent of SMIC's capacity was tapped during the quarter -- a 12.2 percentage point drop in a year -- it's no surprise gross margins also slid by almost 6 points to 25.8 percent.
In terms of technology, SMIC pales in comparison to peers like United Microelectronics Corp. and Taiwan Semiconductor Manufacturing Co. It's built a business around being the low-cost alternative for Chinese designers that want to make massive amounts of chips and that don't require the best technology available. SMIC makes money by filling its plants with rather less heroic items such as fingerprint sensors, NOR flash memory chips and micro-controllers. Not sexy, but they pay the bills.
Except that when the global electronics market faces headwinds, customers no longer buy chips by the truckload. With margins already less than half that of TSMC, SMIC doesn't have much scope to cut prices without eroding profits, despite its lower cost base.
In forecasting weak revenue and margins, SMIC is signaling that more of its factories will lie idle in coming quarters. That's a prospect clearly making investors nervous.
To contact the editor responsible for this story:
Katrina Nicholas at knicholas2@bloomberg.net
Before it's here, it's on the Bloomberg Terminal.
LEARN MORE