Please Pick Up
John Malone Feels How Nice It Is to Be Wanted
Verizon, SoftBank and now Patrick Drahi's Altice have all been floated as suitors, but there's no need for the cable giant to sell.
By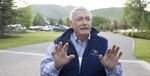 I'd like to spend $120 billion, too, Altice. But it's probably not in the cards for either of us. 
The European cable provider is the latest company to reportedly be considering a takeover of Charter Communications Inc., even though the U.S. cable giant dwarfs Altice NV in size. The other purported suitors out there for Charter were most recently Japan's SoftBank Group Corp. -- which is desperate to find a partner for its Sprint Corp. wireless business -- and Verizon Communications Inc. earlier in the year. So long as industry executives, lenders, shareholders and regulators haven't collectively lost their minds, none of these potential deals will come to fruition.
For starters, Charter, which is backed by dealmaker John Malone, has no need to sell itself. It's been one of the industry's steadiest performers and already commands a premium valuation relative to its peers across the cable, wireless and TV programming realm. Since completing its acquisition of Time Warner Cable for $78 billion in May 2016, Charter shares have returned 74 percent, while the S&P 500 media subgroup advanced just 19 percent over that span.
Then there's the obvious: Charter's $120 billion market value is outside the reach of most wannabe dealmakers -- even Verizon, but especially Altice. Sure, Masayoshi Son of SoftBank and Patrick Drahi over at Altice aren't ones to shy away from a challenge. But negotiating with Malone is the ultimate one, and Charter's already working with $63 billion of its own long-term debt. That puts Charter's leverage at more than four times the Ebitda it will have generated this year. And Malone's not going to sell without a hefty premium.
Charter has been grappling with cord-cutting, but its subscriber losses haven't been nearly as painful as they have at satellite-TV provider Dish Network Corp. and AT&T Corp.'s DirecTV and U-verse businesses. Charter has said some of its own decline was due to it ending promotions that the legacy Time Warner Cable business was heavily dependent on as it transferred customers to Spectrum packages -- that's the new consumer-facing brand name for the combined company's video, internet and phone services. Charter also has been adding more high-speed data customers than its rivals. 
The company pretty much has its pick of merger partners at the moment. But of higher priority may be investing in its wireless network, which Charter plans to launch and offer to its cable customers next year via a service resale agreement it has with Verizon. Charter and Comcast Corp., the two most powerful cable companies in the U.S., formed an alliance earlier this year to work together on these efforts and not buy a wireless carrier without one another's involvement for the next year. Of course, with Sprint and T-Mobile US Inc. still up for grabs, there's been some doubt about whether that pledge will last. Still, it's hard to imagine Charter as a seller in any deal scenario, and it already shot down speculation that it'd acquire Sprint.  
Altice, which took its U.S. business public in June after it acquired Cablevision Systems Corp. for almost $18 billion last year, obviously has lofty expansion goals for this side of the Atlantic. It may find more feasible and receptive targets for now in closely held Cox Communications Inc., the No. 3 U.S. cable company, or smaller player Mediacom Communications Corp.

With borrowing rates so low and with such a large appetite for megamergers to stave off subscriber losses, it's no wonder all kinds of deal scenarios are cropping up these days.  It's also common for these companies to carry higher leverage ratios. But even if Drahi could make the math work for Altice to extend an offer, Charter doesn't need to sell.   
Another one to cross off the list, but anyway good for John Malone. It's nice to be wanted.
To contact the editor responsible for this story:
Beth Williams at bewilliams@bloomberg.net
Before it's here, it's on the Bloomberg Terminal.
LEARN MORE