Multiplier
KKR, Like Everyone Else, Is Betting Add-Ons Add Up
Buying companies and combining them is one way to boost profit and enhance performance.
By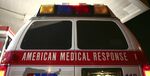 KKR & CO LP
+0.15
At Closing, June 15th
ENVISION HEALTHCARE CORP
-0.11
At Closing, June 15th
What does KKR &  Co.'s $2.4 billion deal for an ambulance operator say about private equity's current state? A lot, actually. 
The New York firm said Tuesday it is buying American Medical Response from Envision Healthcare Corp. and combining it with a medical-transport company it already owns in what's known as an "add-on" or "bolt-on" transaction. If that's a concept that sounds familiar, it may be because just two weeks ago WebMD Health Corp. agreed to folded into KKR's Internet Brands, which owns other websites such as CarsDirect.com. 
These types of deals are one way private equity buyers have been staying busy while valuations of would-be targets remain sky-high. And they're far more common than you might think. According to PitchBook, two in every three private equity deals this year and last has been an add-on: 
The rationale is simple: By purchasing companies with the intention to combine them, firms tap into cost savings and scale opportunities that should lead to enhanced profits. It also creates a larger, more compelling company that should be able to fetch a richer valuation when sale time inevitably rolls around.
Per PitchBook, the median length that a business is owned by one private equity firm is 5.4 years. That's not a long time to organically grind out earnings improvements, and since there's a limit to the operational efficiencies and cost savings that can be achieved, growth via acquisitions can be crucial.
For that reason alone, even if and when valuations subside, expect add-ons to remain a healthy share of the buyout mix.
To contact the editor responsible for this story:
Beth Williams at bewilliams@bloomberg.net
Before it's here, it's on the Bloomberg Terminal.
LEARN MORE