Britain's little Brexit adventure offers a perfect snapshot of what goes wrong when company bosses fall foul of the masses. 
For years, U.K. employers have relied on an abundance of foreign workers to fill jobs, especially in London. Yes, Conservative ministers have talked since 2010 about cutting yearly net migration to the "tens of thousands" from the hundreds of thousands. But nobody took them too seriously.
The Brexit vote changed all that, with the leave campaign heavily bolstered by its promise to seize back control of immigration from the EU.
Yet the implications of this are already being felt in the jobs market, as shown by the latest survey from Markit and industry body the Recruitment and Employment Confederation. It shows demand for workers is increasing, while the number of potential applicants is shrinking.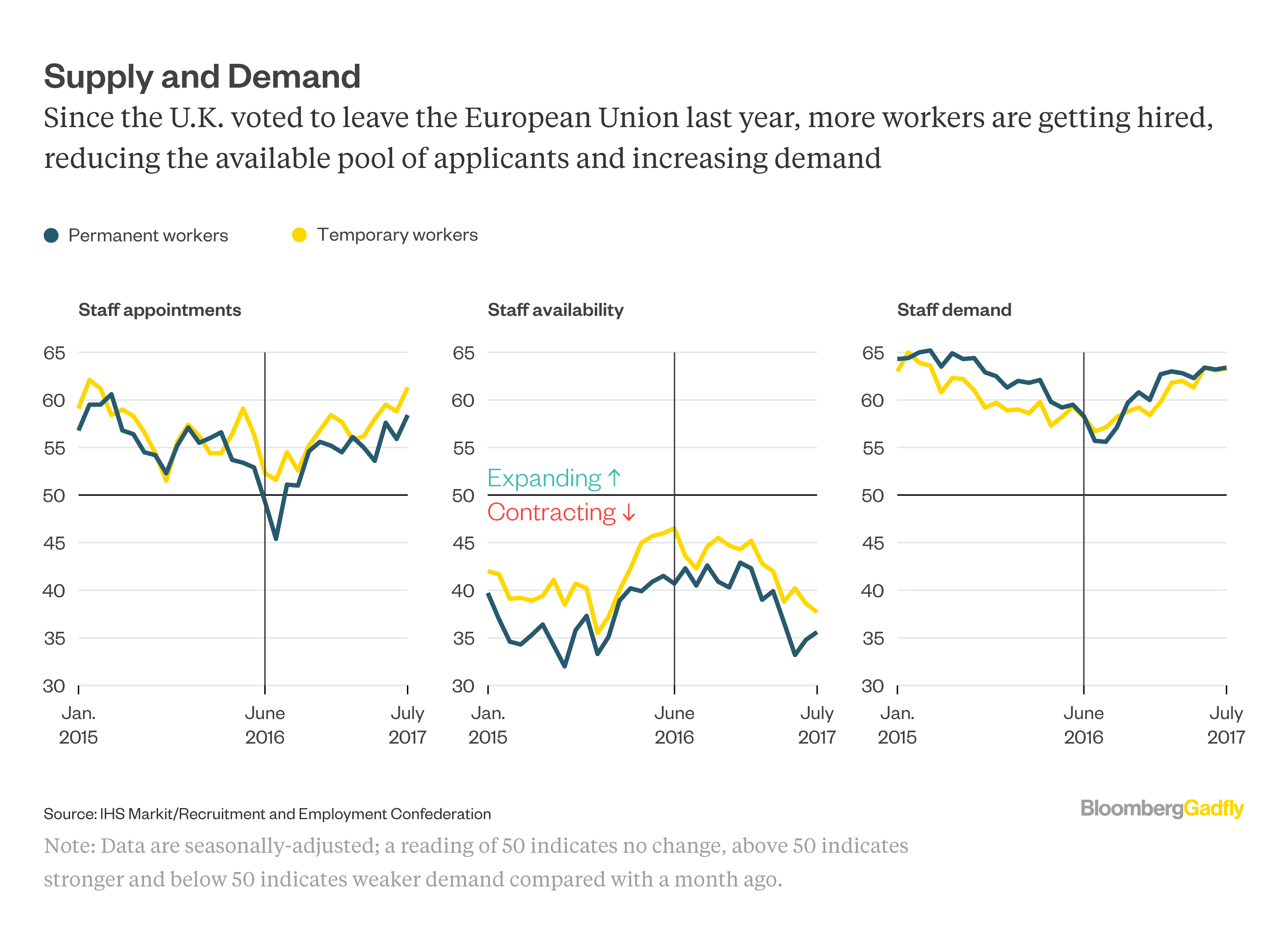 This phenomenon affects all sectors, from finance and technology to nursing and construction.
While Brexiteers will no doubt welcome the booming job market as evidence of a country that's raring to go, the lack of bodies to fill jobs does point to a fundamental problem with the desire to rein in immigration. Namely, if bosses are already struggling to fill jobs with yearly net migration just shy of 250,000 in 2016, how hard would it be if that figure fell to 100,000 or less. 
Arbitrarily starving itself of talent doesn't seem like sound policy for a healthy U.K. economy.
And while the number of EU workers in the U.K. hasn't cratered since last year's referendum, it's certainly flattened according to the Office for National Statistics.  For the so-called A8 countries, including Poland and the Baltic states, the recent trend has been downwards. These figures only take us up to March, so it will be interesting to see the ONS data for April, May and June when they're published later this month.
Again, a politician with one eye on the popular vote might see all this as good, with a tightening job market hopefully lifting stagnant wage growth. Yet there's been little sustained evidence of this yet.
Even if you respect the British skepticism about mass immigration, the economic consequences of having a fixed target may make it self-defeating. Like most radical diets, this isn't a good idea.
This column does not necessarily reflect the opinion of Bloomberg LP and its owners.
To contact the editor responsible for this story:
James Boxell at jboxell@bloomberg.net