Dialysis Deal
Fresenius Pays an Arm, and Maybe a Leg
The medical-devices maker can't afford to get sucked into an auction.
By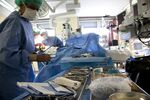 FRESENIUS MEDICAL CARE AG &
+0.04
As of 8:18 AM EDT
NXSTAGE MEDICAL INC
-0.08
At Closing, June 18th
A U.S. maker of home-dialysis equipment is paying the price for over-inflating investor expectations.
NxStage Medical Inc. warned in May it wouldn't grow as fast as hoped this year. German rival Fresenius Medical Care AG has decided to exploit the resulting share price weakness by making a $2 billion takeover bid. On Monday, NxStage duly caved in.
The offer is clearly opportunistic. At $30 a share, it's 30 percent more than the stock's last closing price. That's a low premium given the shares are barely off their one-year low, but it's high enough to look credible. It offers NxStage shareholders an exit at a smidgen below the $30.61 all-time high the stock touched just before the May revenue alert. So the deal is effectively a chance to rewind the clock and get out at the close to the top.
There's some strategic logic in the combination. Fresenius Medical Care specializes in chronic kidney failure and has operations in the U.S. As analysts at Lampe say, bringing NxStage into the portfolio makes perfect sense.
Yet financially, the deal is a bit of a stretch -- never mind the opportunistic timing. For starters, Fresenius is paying five times NxStage's estimated revenue for this year. The average multiple paid in healthcare deals over the past three years is a little more than twice sales, according to data compiled by Bloomberg.
Then, the premium is worth $451 million. Fresenius expects to make $80 million to $100 million of annual cost cuts after three to five years. Even if it delivers these quickly and in full, they barely cover the premium after allowing for $150 million of one-time costs. Further, the synergies look ambitious -- equating to as much as 25 percent of this year's $400 million of estimated revenue.
What's more, NxStage isn't expected to turn a profit until next year. Forecasts beyond then are modest. Even with the cost savings, it's hard to see this acquisition earning the appropriate high single-digit return on invested capital within three years. Fresenius will need to drive NxStage's sales higher, as well as well as running it more efficiently. 
Doubtless Fresenius would have been batted away by NxStage's board had it offered a mere 25 percent premium, and the bidder's management is right to take a long view of the business. But if NxStage is lucky enough attract counterbids, Fresenius can't afford to be sucked into an auction.
To contact the editor responsible for this story:
Edward Evans at eevans3@bloomberg.net
Before it's here, it's on the Bloomberg Terminal.
LEARN MORE