Chips Are Up
IPhone Supplier Goes Stratospheric
AMS shows we should be careful about chipmaker euphoria.
By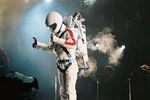 APPLE INC
-0.48
At Closing, April 23th
INFINEON TECHNOLOGIES AG
+0.30
As of 7:46 AM EDT
Usually when a company's stock price more than doubles in six months, prospective investors might worry about piling in too late. Such prudence hasn't held back AMS AG, a small chipmaker based in Austria that's been catapulted to stock-market stardom as it gears up to supply Apple's new iPhones this fall.
Instead, AMS has become a rip-snorting exemplar of the euphoria gripping global semiconductors, as well as the power wielded by Apple over its suppliers. AMS shares rose 5 percent on Wednesday after Apple signaled that the new models would probably debut in September. With AMS expected to provide 3D sensing chips for the next iPhone, it says revenue will grow on average by 40 percent each year through 2019, to reach 1.5 billion euros ($1.8 billion).
The manna from Cupertino makes Swiss-listed AMS the biggest gainer among European blue chips this year. Its sensor chips let smartphone cameras perform facial recognition and can improve augmented reality apps like Pokemon Go.  
AMS shares have trounced the 20 percent rise in the Philadelphia Semiconductor Index, which includes the sector's 30 biggest companies, and other individual stars such as NVIDIA Corporation and LAM Research Corp. 
The AMS earnings trajectory looks pretty stellar for three years at least, so it's natural for growth-hungry investors to get excited.
Plus the sector rally that started in early 2016 doesn't look likely to fizzle out this year. Companies from Intel Corp. to Infineon Technologies AG are optimistic about the rest of 2017.
As our silicon-infused future arrives, we'll need plenty of chips to connect all those smart fridges and self-driving trucks. And chipmakers might be getting smarter about avoiding the boom-and-bust cycles of the past. Memory chipmakers like Samsung and Micron Technology Inc., for instance, have pushed up prices by being careful not to flood the market. 
Still, danger lurks alongside the elation. Companies that rely heavily on Apple warrant a discount because of the risk that they get dropped one day. U.K.-based Imagination Technologies Group Plc is a cautionary tale. Its shares cratered by 60 percent in April when Apple chose to wean itself off its graphics processor chip designs. The company is now up for sale.
Such risks have persuaded giant U.S. chipmakers to shy away from supplying Apple-customized stuff, leaving this to a crop of smaller -- often European -- companies, according to Barclays analyst Andrew Gardiner. AMS is the newcomer to a group that takes in Germany's Dialog Semiconductor Plc and Franco-Italian STMicroelectronics NV.
At AMS, there's no sign of an Apple discount. The shares trade at roughly 27 times expected 12-month earnings, according to Bloomberg data, almost 30 percent higher than its direct peers and 45 percent higher than the chip index.
Of course, AMS will grow faster than rivals in the coming years as its 3D sensor chips go into iPhones. Its current guidance doesn't include benefits that may come in 2019 if makers of Android smartphones choose its products too. 
But who knows whether we'll all want to scan our faces to log on to our phones, or if the industry's hopes for augmented reality will pan out. Fads like Pokemon Go are ephemeral. Apple's patronage can be too.
To contact the editor responsible for this story:
James Boxell at jboxell@bloomberg.net
Before it's here, it's on the Bloomberg Terminal.
LEARN MORE