$100 Billion Or Bust
Carlyle's Plan Is Right on Track
A strong second-quarter showing signals a path to an improved valuation.
By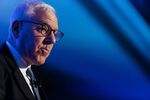 CARLYLE GROUP/THE
+0.10
At Closing, June 18th
As new parents can confirm, a lot can happen in nine months.
For Carlyle Group LP, it has been that long since the firm declared a goal of raising $100 billion within four years, an ambition that -- at the time -- I wrote was realistic. The Washington-based firm's second-quarter results released Wednesday have me feeling comfortable about my prediction.
Executives are brimming with confidence they'll hit their objective, thanks in part to an $8.4 billion inflow in the three months to June, Carlyle's biggest quarterly haul since the financial crisis -- even though its flagship funds weren't yet in fundraising mode. 
Their bullishness appears to be warranted: Demand from return-hungry pension funds, sovereign wealth funds, and a barrage of other, smaller investors is expected to outweigh capacity for Carlyle's soon-to-be raised U.S., Asia and Europe-focused buyout funds. And each of those funds is targeting a larger total than their predecessors, at $15 billion, $5.5 billion and 5 billion euros ($5.9 billion), respectively. 
Also comforting is the fact that Carlyle has some semblance of discipline in its fundraising approach: Co-founder and co-CEO David Rubenstein said on Wednesday the firm won't increase its goal of $100 billion, even if investors have the appetite. His reasoning? There's no benefit to taking more money than the firm can invest prudently. 
That's a fact Carlyle has learned the hard way: The firm disclosed on a call with analysts on Wednesday that two of its previous funds were only able to invest roughly 80 percent or less of their proceeds, the kind of shortfall investors detest. For fear of catching egg on its face again, Carlyle must prove it can spend the capital it is raising on attractive deals within a reasonable time frame. 
Carlyle still trades at a discount to larger rivals, including Apollo Global Management LLC and Blackstone Group LP, in part because of its heavy reliance on performance-fee-related earnings, which -- while sometimes sizable -- are held in less regard by shareholders due to their unpredictability. But as it marches toward its $100 billion target 1 , growth in future management fee-related earnings should follow.
Such diversification is part of a plan that, for now, seems to be working. 
David Rubenstein is the host of the Bloomberg Media television and digital series, "The David Rubenstein Show: Peer-to-Peer Conversations."
To be sure, while this is quite a feat for Carlyle, just consider that Blackstone and Apollo have raised $57.4 billion and $54.8 billion in the 12 months to June 30, respectively.
To contact the editor responsible for this story:
Mark Gongloff at mgongloff1@bloomberg.net
Before it's here, it's on the Bloomberg Terminal.
LEARN MORE