Now What
Wells Fargo Dusts Itself Off, Trips Again
Its response to its latest misstep is better but shouldn't become a habit.
By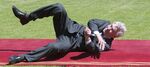 WELLS FARGO & CO
+0.24
At Closing, June 15th
Wells Fargo & Co. can't stop inducing face-palms.
Late Thursday, the bank said it would pay as much as $80 million to roughly half a million clients who unnecessarily paid for auto insurance. This includes an estimated 20,000 of its customers who lost cars because of wrongful repossessions.
Overall, the dollar impact to the lender's bottom line isn't overly meaningful, but it could balloon if lawsuits are filed and settled and if it is fined by government agencies or regulators. Shareholders are unhappy about its latest misstep, as they should be: The bank's stock slid by as much as 2.8 percent in early trading on Friday. Moreover, it represents yet another blow to Wells Fargo's already tarnished reputation and another fire to put out for key executives like CEO Tim Sloan, who are still being dogged by the lender's creation of more than 2 million fake deposit and credit-card accounts.
For now, San Francisco-based Wells Fargo can do little but accept its fate as the easiest target among the big banks. New York City Comptroller Scott Stringer this week echoed the sentiment of Senator Elizabeth Warren, who last month appealed to Federal Reserve Chair Janet Yellen to remove some of the bank's directors. (I've suggested some of them should take a hint.) 
Still, if there's a small positive to be gleaned from this it's that Wells Fargo has learned something from its earlier sales practices fiasco: The bank acknowledged that its internal controls were "inadequate" rather than passing the blame onto external vendors that were in part responsible for providing evidence of existing insurance, which would have mitigated the purchase of these unnecessary policies.
Unpleasant as a discovery like this is, it's better that it's brought to light and addressed. But investors aren't going to want Wells Fargo to get too good at it. For the sake of the bank's stakeholders and its battered reputation, here's hoping it doesn't become routine. 
To contact the editor responsible for this story:
Daniel Niemi at dniemi1@bloomberg.net
Before it's here, it's on the Bloomberg Terminal.
LEARN MORE