Cellar Dweller
GE's New CEO Won't Get a Grace Period
Shares of the industrial conglomerate are currently on track to hit a shameful milestone.
By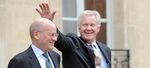 GENERAL ELECTRIC CO
-0.34
At Closing, June 15th
John Flannery officially takes over as CEO of General Electric Co. next week. How's this for an inheritance: The stock is headed toward its worst annual performance since the throes of the financial crisis.
GE has dropped 18.4 percent through Thursday, just a few percentage points off its showing in comparable periods for 2008 and 2009. It's also the weakest year-to-date return amid the 30 members of the Dow Jones Industrial Average. While GE has come awfully close before, the industrial conglomerate hasn't occupied the bottom rung on an annual basis since at least 1999. Flannery's task is to do what he can to make sure 2017 doesn't break that streak.
His odds aren't looking great.
Outgoing CEO Jeff Immelt's surprise retirement announcement sparked speculation that a major reset of earnings expectations could occur once he steps aside. 1 GE's disappointing second-quarter results make this all the more likely and proved analysts actually weren't being pessimistic enough. 
GE reported negative industrial cash flow in the first half of the year, a performance which makes reaching its 2017 guidance of $12 billion to $14 billion extremely difficult if not impossible. GE may also have to roll back its 2017 EPS guidance after saying it's trending toward the bottom of its $1.60 to $1.70 range. Those cuts could come as early as October when GE reports third-quarter numbers.
And then there's that darn $2.00 EPS goal for 2018, which I'm sure management wishes it had never vocalized. Curtailing that projection is all but inevitable and will probably happen when Flannery puts out his assessment of GE's businesses in November. Some think GE may ditch the earnings adjustments that have irked investors trying to parse through ongoing one-time puts and takes and go back to GAAP accounting. If it does, Jeff Sprague of Vertical Research Partners estimates its new 2018 goal could be more like $1.30 to $1.40. 
There's something to be said for ripping off the Band-Aid on guidance. But it will mark a painful admission of defeat, and afterward Flannery still has to figure out how to improve profitability and cash flow.
He can't do much about the volatility in oil prices that's pushing profits below target. A breakup looks untenable -- if not because of the tax disadvantages, then because of the company's digital aspirations, which stand a higher chance of success if it stays a conglomerate. GE has committed to $2 billion of cost cuts over the next two years. It maybe could do more, but JPMorgan Chase & Co.'s Steve Tusa points out there aren't a lot of corporate or administrative costs left to eliminate. 2 Flannery can't really consider big M&A, given GE's cash constraints and investors' fears over dividend stability. Shareholders haven't been that happy with GE's acquisition track record, anyway. 
So what can Flannery do? Investors want more "Good Things" brought to life, and less "Imagination at Work." Tusa suggests boosting profitability by reining in GE's empire and exiting less-profitable geographic regions and markets where high levels of competition have eroded margins -- something that's bound to require massive restructuring charges and earnings pain.
One thing's for sure -- there will be no grace period.
 Immelt, for what it's worth, won't have any easy job either should he be picked to head Uber Technologies Inc.

Immelt mused in May about cutting back on spending for digital initiatives, potentially by using financing partners. The company has to be careful here, though. Digital will likely turn out to be one of the better things Immelt's done for the company and it would be a shame to squander the opportunity. For what it's worth, Flannery seems sold on the value of digital.
To contact the editor responsible for this story:
Beth Williams at bewilliams@bloomberg.net
Before it's here, it's on the Bloomberg Terminal.
LEARN MORE