Sticky Spending
Baidu's Annus Horribilis Pays Off
Average revenue from advertisers rose 32 percent. That's key.
By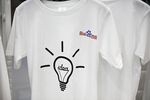 I'm not a fan of cost cutting as a means to boost a company's bottom line. It's a lazy way to pad margins when executives can't drive sales.
But I am willing to make an exception for Baidu Inc. this past quarter. The Chinese search engine posted operating income that rose 47 percent to a record, beating estimates by 43 percent, despite revenue climbing only 14 percent.
The way Baidu managed this feat is encouraging. Sales, general and marketing expenses dropped 30 percent -- a fourth straight quarter in which that metric dropped by 26 percent or more. This was driven by a cut in promotional spending. In the cost of revenue category, traffic-acquisition expenses also fell, both in absolute terms and as a percentage of sales.
All this trimming led to, or perhaps was caused by, a 21 percent decline in the number of active online marketing customers. Yet the key metric here is that the average revenue from each of those customers increased 32 percent. It helps to think of this as ARPU in the telco sense of the word. 
Boosting ARPU is the goal of any good telecoms executive, but advertising-led companies are more inclined to take whatever revenue they can get. As a result, they often find themselves down the rabbit burrow, spending more and more money to chase less and less valuable advertisers. Just take a look at some of the spammy ads appearing at the bottom of your favorite websites to see what I'm talking about.
Last summer, when Baidu was criticized for displaying misleading medical ads, management was prompted to reassess just what kinds of advertisers the firm really wants on its platform. To be sure, this wasn't some voluntary action on the part of CEO Robin Li and his team, but it was the path down which they were forced.
In May last year I argued that this crisis -- Baidu's Foxconn Moment -- would leave the firm stronger. These second quarter numbers now show that to be quite true.
To contact the editor responsible for this story:
Katrina Nicholas at knicholas2@bloomberg.net
Before it's here, it's on the Bloomberg Terminal.
LEARN MORE