Credibility Knock
AstraZeneca's Missing Takeover Defense
Drug trial miss has undermined the CEO's growth vision.
By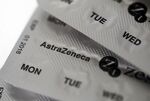 AstraZeneca's disappointing trial data for its highest-profile drug leaves it vulnerable to a takeover. Unfortunately for investors, the U.K. drugmaker's management lacks the credibility to mount a strong defense that would force any predator to pay a full price. The obstacles to a bid may be more political than financial. 
The Cambridge-based pharma group saw its shares fall as much as 17 percent, taking up to 11 billion pounds ($14.5 billion) from its market value, after it revealed poor results for lung cancer treatment Imfinzi. The trials continue but the market's previous optimism has already been dashed.
Setbacks in the lab are part of drug discovery. Blame can't be leveled solely at Chief Executive Officer Pascal Soriot. Any science company needs an appetite for risk, just as much as the willingness to pull projects that look unlikely to pay off.
Soriot points to successful product launches and other exciting clinical activity as evidence that AstraZeneca isn't isn't all about this one prospect. The difficulty is that these haven't lifted the stock price. AstraZeneca shares were trading at around 43 pounds apiece on Thursday, roughly where they landed after the the board fought off a 55 pounds-a-share takeover proposal from Pfizer Inc. in May 2014.
Thanks to dividends, shareholders' total return since then is 14 percent. But that's roughly the uplift they should have had from the positive impact of sterling's devaluation on the U.K.'s dollar-based earners.
The stock portion of Pfizer's cash-and-shares takeover proposal would be worth nearly 50 pounds today, with the cash piece adding almost 25 pounds, and more than that if reinvested. The value equation is roughly the same if you imagine investors had put the proceeds in the FTSE-100 index.
It's true that any Pfizer deal, even if agreed, may never have closed given subsequent changes to the U.S. tax regime undermined the financial logic of the takeover. This doesn't alter the fact that the AstraZeneca board argued that Pfizer was undervaluing the company.
The stock trades at 15.2 times forward earnings, about in line with European peers, and at a slight premium on an enterprise value to forward Ebitda basis. It looks neither wildly cheap nor pricey, and any bidder surfacing now could fund a premium based on cost cuts.
Soriot says the latest setback doesn't change AstraZeneca's attractiveness as a takeover target: if the data had turned out positive, would the company not be even more attractive? The difference that it's much easier to defend a bid from a position of strength.
He envisaged AstraZeneca would be making $45 billion in sales by 2023. The company's cutting itself a bit of slack after the dollar's strengthened. Even so, analysts' forecast for next year's revenue is $22.3 billion. Small wonder he is asking shareholders to wait just a bit longer.
Theresa May has indicated that companies like AstraZeneca shouldn't be bought without some consideration of their strategic value to the economy. It's still not clear precisely what that means. But it may be the strongest defense the company has right now.
To contact the editor responsible for this story:
Jennifer Ryan at jryan13@bloomberg.net
Before it's here, it's on the Bloomberg Terminal.
LEARN MORE