Different Strokes
Evergrande Bulls Beware
The property firm's debt tells a different story.
By and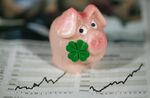 CHINA EVERGRANDE GROUP
+1.75
At Closing, April 24th
Investors beware. The story of any stock that goes from zero to hero could end in tears.
China Evergrande Group surged as much as 18.6 percent Wednesday before closing at a record HK$20.90 ($2.68) after the developer said it expects first-half net income to triple from a year earlier.
But within that promise of better results lay something even more alluring: a 7 percent dividend yield from a firm whose meteoric rise has made it one of China's largest property companies.
Evergrande said late last year that it would start to distribute 50 percent of core net profits. With such buoyant financials, those payouts should happen any time.
Evergrande could distribute at least 14 billion yuan ($2.1 billion) in dividends this year, which would translate to a 7 percent yield, according to analysts at BOC International, the investment banking arm of Bank of China Ltd. That would rank it alongside other long-time yield favorites such as Sands China Ltd. and PCCW Ltd.
But Evergrande bulls should proceed with caution, and not just because of the Guangzhou-based firm's famed debt burden or high valuation. (Evergrande trades at 4 times book, more than double China Vanke Co.)
Chiefly, the issue is that the price of Evergrande's shares is largely determined by the investment decisions of its chairman Hui Ka Yan, and his long-time business associate Joseph Lau.
Hui, who went on a stock-buying spree earlier this year, has already accumulated 72 percent of Evergrande, close to the limit he's allowed under Hong Kong listing rules. Lau, whose relationship with Hui dates back at least to Evergrande's IPO in 2009, has amassed more than 5 percent of the company via his Hong Kong-based, publicly traded Chinese Estates Holdings Ltd.
So this is a firm with very limited liquidity. The daily average trading volume of Evergrande is only 46 million shares, or just 1.6 percent of its free float. Even though Evergrande no longer has record short bets on its stock, short interest still makes up 15 percent of the free float.
This tension between Hui and Lau, and short sellers isn't going to end soon. Both sides can corner the market.
Evergrande's latest bond issue, meanwhile, isn't setting the world on fire. Its 8.75 percent U.S. currency notes due 2025 and sold last month are trading at 99.66 cents on the dollar to yield 8.81 percent, pricing data compiled by Bloomberg show. In other words, bondholders still see Evergrande as high risk. The company's $1 billion of 9.5 percent notes are trading at 103.8 cents on the dollar, down from a high of 113 cents just last month.
Equity investors that have sent the stock up an astonishing 333 percent this year may want to pause. Evergrande's debt holders seem to sense something they don't.
To contact the editor responsible for this story:
Katrina Nicholas at knicholas2@bloomberg.net
Before it's here, it's on the Bloomberg Terminal.
LEARN MORE