Highfliers
The Warning Behind Boeing's Bounce
With valuations at or near a peak, it takes perfection to turn investors' heads. And nobody's perfect.
By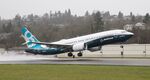 Boeing Co. and Rockwell Automation Inc. are doing this industrial earnings season right. How long they can keep it up -- and continue pleasing investors  -- is another thing.
Both companies reported strong quarterly profit on Wednesday, allowing them to raise their annual guidance. Most importantly, their respective EPS outlooks were even sunnier than what analysts had been anticipating. That's what it takes to get a rise out of shareholders these days, with valuations either at or near a peak for most of the world's biggest makers of industrial goods and machinery. 
Others, including Ingersoll-Rand Plc, which also reported results on Wednesday, have been punished for falling just short of perfection with their raised guidance. Even at Rockwell, there seems to be a feeling among some investors that while guidance beat estimates, it still should have been higher because the latest batch of quarterly results were so good. Ok then. 
So what's the take-away? Clearly there are some industrial companies whose earnings power may yet surprise, but these stock charts should still give investors pause. There are a few worrying signs that have emerged from this earnings season that may eventually affect even these current outperformers. 
Material costs are rising, growth for some shorter-cycle companies such as 3M Co. and W.W. Grainger Inc. sputtered a bit in the second quarter and commodities remain a bit of a guessing game. More and more companies are also finding they need to start spending on digital initiatives to keep their business relevant, which may pressure margins. United Technologies Corp., for example, called out increased digital investments as one reason why EPS in the second half of the year won't be as strong as the first.
These pressure points won't affect industrial companies equally, of course. Rockwell and Boeing seem to be doing just fine, although I will point out the latter's second-quarter revenue was a bit light. It's worth noting that more analysts are recommending holding or selling those two stocks than buying them. One misstep and they'd be right where Ingersoll-Rand is today, down more than 2 percent in early trading. 
If the margin of error is so small, perhaps the valuation you're assigning to a stock is too high.
To contact the editor responsible for this story:
Beth Williams at bewilliams@bloomberg.net
Before it's here, it's on the Bloomberg Terminal.
LEARN MORE