Drug Trials
Lilly Continues to Test Investor Belief
Even with older drugs under threat, it trades at a premium.
By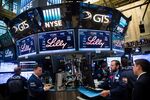 ELI LILLY & CO
+0.53
At Closing, June 15th
No matter what Eli Lilly & Co. throws at them, investors still seem to believe in it.  
The company disclosed with its second-quarter earnings report on Tuesday that its potential blockbuster arthritis drug Olumiant may face a years-long delay in getting to the U.S. market. It's the latest in a series of pipeline setbacks for the drugmaker. Despite this, Lilly trades at a consistent premium to other large pharma peers, even with Tuesday's 3 percent share-price drop. It's increasingly difficult to see why.
Lilly's core issue is its aging drug portfolio. That didn't change much in the second quarter. It is still heavily dependent on a group of older medicines, such as Cymbalta, Cialis and Alimta -- which either already face generic competition or likely will soon -- and on diabetes medicines such as Humalog that are under pricing pressure. 
Lilly's drug sales did increase 10.7 percent in the quarter from a year earlier. The company beat analyst earnings estimates and boosted full-year revenue guidance.
The company touted growing sales of its newer medicines. But most of its pharma sales growth in the second quarter was in the U.S., and most of that growth came from price increases on older medicines such as Cialis, which will lose patent protection next year. 
Though Lilly's older drugs have held up well in 2017 so far, a decline is coming, and new medicines must take up the slack. Much of Lilly's expected sales growth over the next few years depends on newer diabetes medicines Jardiance and Trulicity. But both drugs have competitors. And Trulicity -- expected to be the Lilly's best-selling medicine by next year -- is under particular threat from Novo Nordisk A/S's Victoza.
Lilly's new psoriasis medicine Taltz is selling well, but is in a wildly crowded class, where yet another medicine -- from Johnson & Johnson -- was just approved by the FDA. Cancer medicine Cyramza, meanwhile, faces the growing popularity of immune-boosting cancer drugs from Merck & Co. Inc. and Bristol-Myers Squibb Co.. 
Even if these drugs manage to sustain sales growth, Lilly will still need further reinforcement. But many of its pipeline assets have been delayed (Olumiant in the U.S.), failed in trials (solanezumab in Alzheimer's), or are of uncertain value (breast-cancer and migraine drugs that both face crowded markets).
Lilly spent much of its earnings call describing a revamped and more-focused approach to cancer-drug R&D. But with the exception of the aforementioned breast-cancer drug, it will be years before these efforts bear fruit. The company will be hard-pressed to boost research, launch drugs in crowded markets, and weather pressure on older drugs, all while maintaining margin improvements that have flattered results this year. 
Lily's grip on its premium valuation has survived a lot of disappointment. But sooner or later, it's going to have to justify itself more convincingly. 
To contact the editor responsible for this story:
Mark Gongloff at mgongloff1@bloomberg.net
Before it's here, it's on the Bloomberg Terminal.
LEARN MORE