Full Throttle
Caterpillar Investor Faith Is Rewarded -- This Time
While the machinery maker's raised guidance is evidence that a recovery is happening, how far that rebound goes isn't clear.
By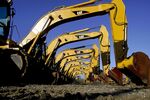 CATERPILLAR INC
-3.12
At Closing, June 15th
Wall Street has been wearing rose-colored glasses when it comes to Caterpillar Inc. After the tractor maker's earnings Tuesday, they're also seeing green. 
The $64 billion maker of bull dozers and excavators reported better-than-expected second-quarter results, justifying a major boost to its full-year outlook. Caterpillar now expects about $5 in adjusted EPS at the midpoint of its (also increased) revenue guidance. Not only is that a third higher than what Caterpillar had projected in April, it exceeds analysts' estimates that before Tuesday's report were arguably looking over-eager.
Such optimism has become something of a pattern among Caterpillar followers, who have regularly been more enthusiastic about its recovery than even the company itself. With Caterpillar shares skyrocketing more than 6 percent percent in early trading, such a sunny disposition is seeing its reward. That said, there is still such a thing as too much optimism and investors should be wary of a further push upward in Caterpillar's stock price and those profit forecasts.
Based on typical valuation multiples during economic swings, Caterpillar's pre-earnings report stock price was implying a jump to $12.50 in EPS when it reaches the peak of its profit recovery in a few years, according to Jefferies analyst Stephen Volkman. The last apogee for Caterpillar's earnings in 2012 was just under $9. It's an open question whether Caterpillar's earnings power can even recover that far as commodity prices remain volatile and companies prioritize cutting debt and raising cash flow over new investments.
While one big reason for Caterpillar's improved outlook was increased demand across many of its markets, including a rebound off of the lows in demand for its mining and oil-related equipment, it cautioned that there were still lingering risks. Caterpillar's head of investor relations noted in June that it was keeping "constant watch" on crude prices, which have been trading below its comfort level of $50.
Cost cuts seem to be paying off, as the restructuring charges rack up. Notably, however, Caterpillar specifically highlighted its interest in making "targeted investments" to enhance its digital capabilities. It plans to do this without adding to the costs it's worked so hard on trimming back, but it's hard to launch a full-scale investment in technology without an impact to margins (see General Electric Co.).
Throwing caution to the wind has worked out well for Caterpillar investors so far. But at some point, all that enthusiasm could come back to bite.  
To contact the editor responsible for this story:
Beth Williams at bewilliams@bloomberg.net
Before it's here, it's on the Bloomberg Terminal.
LEARN MORE