Ship of Fuels
The Oil Curse of the Skies
Cheap fuel means more capacity and an inevitable fare war.
By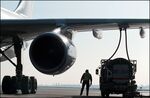 RYANAIR HOLDINGS PLC
+0.01
At Closing, June 15th
European airline stocks have been flying in 2017. At least until EasyJet Plc's warning this week about excess capacity pressuring fares. Its shares fell 6 percent on Thursday, dragging peers lower.
For EasyJet, a course correction was overdue. Buoyant customer demand has helped lift its shares by about one-third this year, erasing much of the damage caused by the Brexit vote and a spate of terror attacks. But that's left the stock on a premium to budget rival Ryanair Holdings Plc.
With CEO Carolyn McCall due to fly the nest for broadcaster ITV Plc at the end of the year, her successor will have their work cut out justifying that valuation. Oddly, EasyJet's biggest problem is something that should really be a gift: cheap jet fuel.
Fuel accounts for about one-quarter of EasyJet's operating expenses. Yet when the price falls, airlines just can't resist using the windfall to add more seats. That's especially true in Europe because the market is so fragmented (and therefore less disciplined). EasyJet, for example, is the second-largest budget carrier but controls only 8 percent of the European market. Its capacity is set to expand about 8.5 percent this year, similar to Ryanair. 
The difficulty is that cheap fuel also props up the less competitive legacy carriers such as Air France-KLM or Deutsche Lufthansa AG, allowing them to cut fares too. This means everybody profits less than they might have hoped from the fall in the oil price. Adding capacity just adds to the pressure on ticket prices. EasyJet warns that revenue per seat will dip 2 percent in the six months ending September 30, while Ryanair expects fares to fall about 6 percent in its 2018 fiscal year.
There are two ways one can survive, and indeed thrive, in this environment:
Find a way to maintain higher fares. Under McCall, EasyJet has targeted capacity-constrained primary airports that attract a wealthier clientele, including business customers.
Cut costs to the bone and sell as many cheap seats as possible: the Ryanair approach.
While both strategies have merits, right now Ryanair is faring much better. The Irish carrier's operating margin was more than twice EasyJet's last year.
That superior profitability reflects Ryanair relatively small wage bill and because it flies to airports in odd places where landing fees are lower. 
Of course, it would be wrongheaded for EasyJet to ape Ryanair on costs: passengers and employees value being treated well, though EasyJet has work to do to improve its punctuality. In fact the trend is the other way around. Ryanair CEO Michael O'Leary is trying to shed the airline's mean, penny-pinching image and is targeting more expensive primary airports such as Frankfurt.
But that means EasyJet can't afford to sit still, especially as legacy carriers invest in their own no-frills operations such as Lufthansa's Eurowings. If fuel prices remain a pittance, Ryanair's lower costs mean it will have less difficulty navigating a fare war. Though the introduction of bigger fuel-efficient planes will in time improve EasyJet's competitiveness, McCall's successor still needs to learn to do more with less.
To contact the editor responsible for this story:
James Boxell at jboxell@bloomberg.net
Before it's here, it's on the Bloomberg Terminal.
LEARN MORE