T-Mobile US Inc. accomplished what it set out to: trounce Sprint Corp. and ruffle feathers at the once unrivaled wireless leaders, Verizon Communications Inc. and AT&T Inc. Now investors should start to see a more mature T-Mobile -- even if magenta-t-shirt-wearing CEO John Legere still boisterously nags his starchy rivals in the Twittersphere.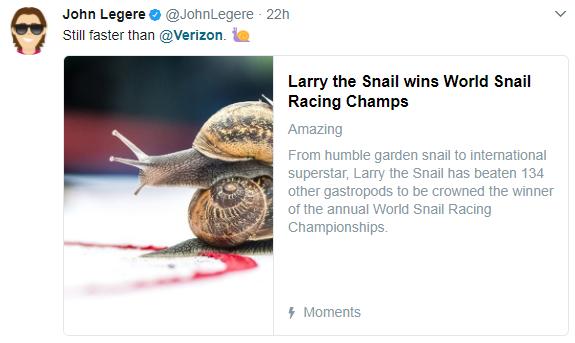 The little engine that could is entering the next phase of its transformation, and that means growth in both subscribers and its stock price will be tougher to come by. T-Mobile's second-quarter results after Wednesday's close of trading may yet be good, with analysts estimating adjusted earnings jumped 44 percent to 36 cents a share as revenue increased 6 percent to $9.8 billion. 
But T-Mobile's stock, which has more than quadrupled in five years, has recently started to hit speed bumps. Options trading ahead of earnings imply investors are tempering their expectations. Bloomberg markets reporter Gregory Calderone notes that the potential average gain implied by the most popular contracts is less than the historical average, as puts congregate around the $59 to $62.50 level. T-Mobile shares were selling for $61.30 apiece midday Wednesday. 
This doesn't detract from what's been an impressive strategy by Legere, who seems to enjoy making it look more impromptu than it probably was. It's all part of T-Mobile's "cool" factor, which he brought to the brand, even if it does at times induce eye rolls. Not for nothing, T-Mobile was able to steal Sprint's spot as the No. 3 player in the industry, then force AT&T and Verizon to cave by offering unlimited data plans.
There's also a marked difference in how T-Mobile went about this versus Sprint's approach: Sprint is offering customers a year of free service if they make a switch, which does more to highlight Sprint's desperation than present a substantial threat to the other carriers. This table created by Bloomberg Intelligence analysts shows how T-Mobile is being competitive while Sprint just looks sad:
But now that the easy subscriber wins have been made, T-Mobile's attention should turn to improving its coverage. There are signs that the company is doing this. Bloomberg Intelligence notes that T-Mobile ended a promotion that offered customers two lines for the price of one and increased the charge for HD video. It also outbid every other company in the spectrum auction earlier this year, spending $8 billion to narrow its gap with AT&T and Verizon.
Regardless of whether T-Mobile merges with Sprint or another party (other possible candidates here), it needs to work on consumers' perception that its service isn't great. That means adding new subscribers from here will get more costly, a challenge for a company that already has tighter margins than its bigger rivals -- and those bigger rivals are only getting more powerful. AT&T may not be growing, but it will have more enticing offerings once it closes the acquisition of Time Warner Inc. Verizon is also clearly on the hunt to join forces with a big media company. 
T-Mobile has had quite a run, but to impress investors from here will be more difficult. 
This column does not necessarily reflect the opinion of Bloomberg LP and its owners.
To contact the editor responsible for this story:
Beth Williams at bewilliams@bloomberg.net